When it's time to hit the trail, open your map to Washburn County! Whether you're into mountain biking, hiking, ATVing or one of the many other trail sports offered in the area, you'll find miles upon miles of picturesque northwoods trails to explore. It seems as though when asked about their favorite trail, you can actually see someone's mind wander to the last adventure on that trail. It's that passion for adventure that really came out when we asked what the top trail was in Washburn County. Here are the top three. 
The first nominee is an absolute must-visit attraction when visiting Northwest Wisconsin. Hunt Hill Audubon Sanctuary is a 600 acre nature reserve with 13 miles of hiking (or snowshoe in the winter!) trails. Two of my favorite trails are the Discovery Trail (also known as the Barred Owl Trail) where you and your kiddos can hunt for hidden objects along the way. The theme changes each month, so you can go back time and again. My next favorite trail is the bog trail. If you don't know much about bogs, be sure to catch one of the staff members and watch their eyes light up (we're looking at you, Nikki!) when they start talking about this awesome part of our ecosystem. Fun fact: Hunt Hill offers snowshoes to use free of charge during the winter months.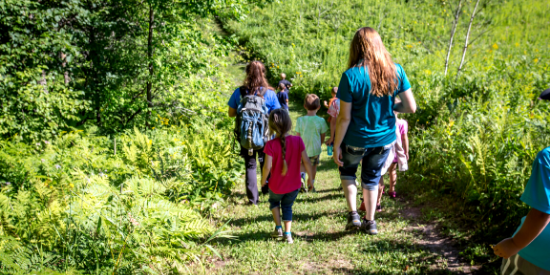 Mountain bikers and winter fat bikers will be thrilled with this little known trail system located just east of Spooner. With twenty miles of trails winding through a scenic parcel of Washburn County forest land, Wildcat Mountain Bike Trail offers an incredible trail experience for both beginner and advanced riders. Maps can be found at the parking area or ahead of time online or by stopping by the Washburn County Visitor Center.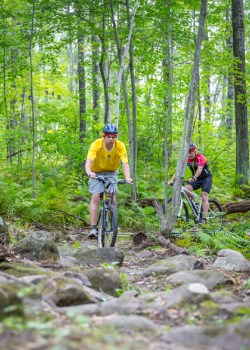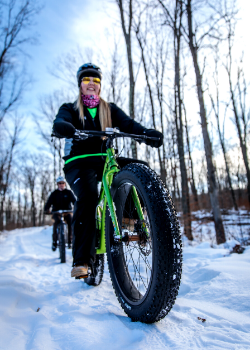 The winner of the Best of WashCo: Top Trail, two years running is the Washburn County ATV Trail system! With over 100 miles of well maintained trails, the ATV system in Washburn County is second to none. These family friendly trails offer an ATV Scenic Tour that highlights over 35 points of interest along the trail including a "swamp" where it's rumored a locomotive went off the tracks years ago and sank deep into the marshy wetland. ATV friendly businesses, trail access lodging, and great trails make Washburn County a must-visit destination for ATV enthusiasts. 
For more information on the many WashCo trail adventures you'll find when visiting the area, check out the outdoors tab on our website. In addition, trail conditions are updated regularly and the visitor center team would be glad to send you information on trails of interest, just fill out an information request.