There's no place like the cabin. As cliché as it is, all cabin-goers know it. For me, it's a place to escape from the city, be in nature, slow down, and enjoy quality family time without the everyday distractions.
I got lucky and married into an old family cabin on Long Lake. I've been coming here with my husband Nick for the last seven years of its 115 year existence. The 2-hour drive up north feels shorter each year. The Scandinavian-style log cabin paired with the backdrop of Washburn County's great white pines and a shimmering lake reminds me of a storybook fairytale. You can bet this place is filled with cabin history and memories.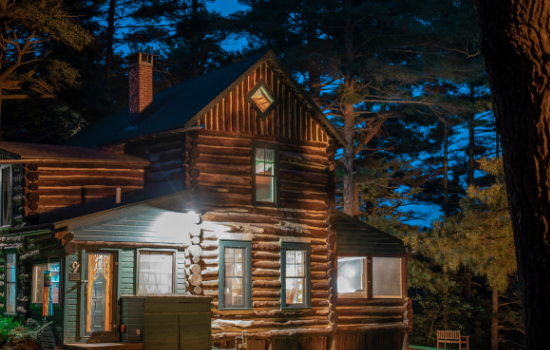 This summer, my 1-year-old son Harlan and I spent one full month at the cabin. My first thought was, "I could get used to this!" I love my daily floaty sessions off the dock, sunset boat cruises with hors d'oeuvres, access to great fishing whenever I want, staying cozy by the fireplace while I telecommute, and the taste of morning coffee on the sunlit porch with a lakeview.
But beyond the simple elements of cabin life, there are some definite perks to having a family cabin in Washburn County. Here are my top five!
Perk #1: It's like a family vacation every time you visit
Whether you have a cabin with just your immediate family or you're in it with the whole extended fam, I think going to the cabin feels like a big family vacation. We sure pack like we're going on vacation – sunscreen, swimsuits, fishing rods, paddleboard, and all the other fun stuff.
And the daily agenda can be as structured or as flexible as a vacation. Ours usually involves boating, swimming, fishing, and checking out any local hiking trails. And even though there's no ocean near us, we have so many lakes to choose from. I'm always amazed by how many lakes are in Washburn County. If the cabin isn't on a lake, it's definitely a hop, skip, and a jump away.
Perk #2: Cabin fever is impossible
"Bored" will never be a part of my cabin vocabulary! Being a part of a family cabin means you're usually there with your family or maybe your close friends, so there is always someone to catch up with, go on a walk with, or if you have an adventurous toddler like us, there's always someone to explore with or take care of. Plus, there's always plenty of upkeep and work to do at most seasonal cabins like ours.
The cabin is what you make of it. You can take advantage of downtime with a nap, read a book, or work on a puzzle. If you're outdoor-lovers like my family, take the canoe or kayak out to a remote lake and catch some bluegills, a northern, or maybe even a walleye. Go for a hike or bike ride at the local county trails or if you don't want to go far, do a "tour de cabins" in a nearby neighborhood. I love seeing how other cabins decorate their front yards and porches. If it's winter time, take on the snowmobile or cross-country ski trails. Our favorite cold weather activity is ice fishing. It's a lot of fun when you're cozy inside a fish house, catching fish, and cooking lake to table fish fry.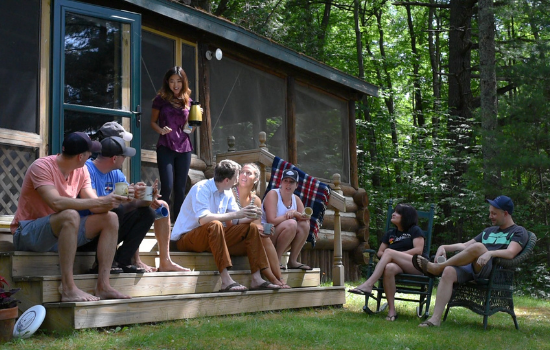 To switch things up, I like to research upcoming events on Washburn County Tourism's events calendar and find festivals, fairs, and other fun happenings. One of my favorites is the Stone Lake Cranberry Festival which happens every October. 
Perk #3: Your very own private hotel 
Cabin ownership is a blessing. I think it's important to note that not everyone has the privilege of being able to escape to a cabin. That's why we love inviting our friends and my side of the family when we can. With that being said, one major perk of cabin life is the privacy which is so necessary when we are in the middle of a pandemic.
I value having my own room, a kitchen to cook in, and a porch to sit on to enjoy the lakeviews -- all by myself or in the company of guests. Plus, the kids (and adults) can have fun, make noise, play music, and the dogs can bark without bothering others.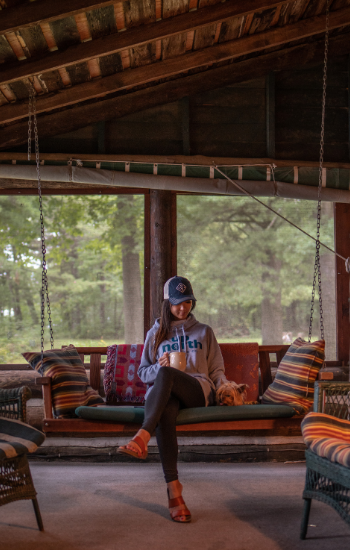 Perk #4: Family history built into a cabin
Whether you have a new family cabin or an old one, there are memories to be made. That definitely rings true for our 115-year-old cabin. I love seeing the black and white photos on the wall with generations of families. There's even a wall upstairs with hundreds of pencil lines marking the height of all who visited the cabin throughout the decades. I've also seen photos and videos of dozens of families and friends sitting by the same boathouse and dock on Long Lake.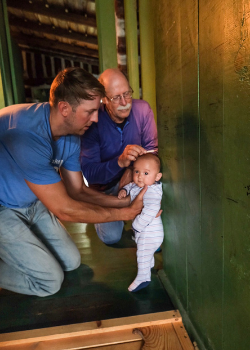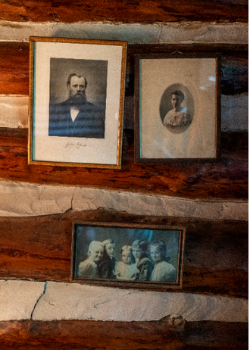 These sentimental memories continue to be made today. Nick proposed to me just a few years ago down at the dock. It's now my favorite spot at the cabin. It's also where I caught some memorable walleye and bass. The cabin is where we come to reunite with family and friends and spend quality, undisturbed time with them. I remember escaping to the cabin when Harlan was just 3-weeks-old. We brought him up with us because we had major cabin fever at home following our first few weeks of sleepless nights and parenthood. 
Perk #5: Telecommuting in the Northwoods
This is the first year I've had the opportunity to work from the cabin (thanks COVID) and it was awesome! My mother-in-law was at the cabin for the month so I was able to work and have Harlan up there with us. She'd take him down to the dock or pontoon, or go for walks. It is truly a perk when you can take lunch breaks on the lake and wet a line while eating a sandwich. Working in an atmosphere that is surrounded by nature has been a literal breath of fresh air for me this year. It's calming and relaxing.
And although we don't have the fastest internet at the cabin, 3 MBps can go a long way if most of the work that takes place online are emails and the one-off video conference meetings.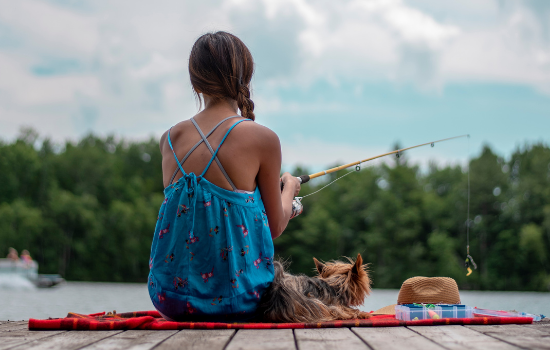 I know not everything is rosy with cabin ownership. There is regular maintenance, seasonal upkeep, and complexities with multi-family cabin schedules. But I think the perks of cabin life overwhelmingly outweigh the challenges. I for one am looking forward to creating more cabin memories with family, friends, and the next generation of cabin-goers for years to come.
Find your perfect escape to make memories at for years to come, the realtors of Washburn County are here to serve you and find the cabin for your family. Or even if you just want to "dip your toe in the water" to experience Washburn County, there's plenty of resorts offering cozy cabins perfect for everyone!