---
Fishing & Outdoor Reports
9/2/2022 Reported by Wisconsin Fisherman
Fishing in the area has been great and it's only going to get better as the temperatures cool off.  We've been finding big bluegills in 10 to 20 feet of water. They are biting on slip bobbers with worms and other plastics. Pike have been hitting many varieties of spinners fish for them on the edge of weeds. Walleyes are still scattered but starting to school up near deep weed edges. We've been seeing water temps around 71 degrees. We have a few spots left to get out in the boat if you'd like to get out fishing! Good luck!
https://www.wisconsinfisherman.com/
8/24/22 - Reported by the Wisconsin Department of Natural Resources
MADISON, Wis. – The Wisconsin Department of Natural Resources (DNR) today announced the 2022 combined Wisconsin Hunting Regulations pamphlet is now available online and will soon be available at license agents and open service centers around the state.
As in previous years, the combined regulations pamphlet brings season dates, shooting hours and regulations together in one convenient document. The 2022 Wisconsin Trapping Regulations are also available online and will also soon be available in print across the state.
This year, there are some changes to the regulations for open-water waterfowl hunting. Hunters may now hunt in the open waters of the Great Lakes, Green Bay and Big Green Lake as long as they are a minimum distance of 500 feet from shore.
In addition, the 2022-23 squirrel season will now close on Feb. 28, 2023, instead of the last day of January.
Deer hunters throughout the state will have their first opportunity to enjoy the woods with the opening of the 2022 archery and crossbow deer seasons, which run concurrently statewide from Sept. 17 to Jan. 8, 2023. The archery and crossbow seasons are extended to Jan. 31, 2023, in metro sub-units. Many counties will offer the antlerless-only holiday hunt between the Christmas and New Year holidays.
Bonus antlerless deer harvest authorizations are still available for purchase in some counties. Check the DNR website for availability.
The 2022 deer season schedule is as follows:
Gun Hunt For Hunters With Disabilities: Oct. 1-9
Youth Deer Hunt: Oct. 8-9
Gun Deer Hunt: Nov. 19-27
Muzzleloader: Nov. 28-Dec. 7
Statewide Antlerless Hunt: Dec. 8-11
Farmland Zone Holiday Hunt: Dec. 24-Jan. 1, 2023
The hunting regulations pamphlet summarizes Wisconsin's hunting laws most relevant to hunters. For additional hunting and trapping laws, consult Wisconsin State Statutes chapter 29 or consult chapter 10 of the Administrative Code of the DNR.
For more information on hunting in Wisconsin, visit the DNR website.
---
8/18/22 - Reported by Jim Stroede Guide Service
We have been doing some bass fishing in my boat as of late, and with very good results! Lots of largemouth bass have been caught using a variety of baits.  Wacky worms, Ned rigs and jig and soft plastic combos are all doing very well right now.  Fish of all sizes including some big ones have been common.  Water temperatures are in the low 70's and have been dropping slowly, providing some nice conditions. 
Good luck and good fishing!
---
7/25/2022 - Reported by Wisconsin Fisherman
The Fishing lately has been pretty good. Water temps are heating up and some of the bigger fish are going deeper.
Bluegill fishing has been great on structure like fish cribs and around shore structure. Pike are still in the weedy areas focusing more on the deeper end of weeds.
Walleye are starting to hover over deeper water feeding on schools of minnows. Trolling has been a good tactic to target them.  Smallmouth bass have been biting on leeches and plastic crawfish. Look for rocks and they should be nearby! Good luck out fishing! I have dates available if you're looking to get out on the water!
Kyle Tyree, Wisconsin Fisherman
---
6/27/2022 - Reported by  AAA Sports
It's been a super busy month so far in June. We've had 3 groups in to fish for 2-3 days each. and the fishing has not disappointed any of them. Almost everyday they caught the limits on sunfish, and occasionally caught a game fish or 2. The fish were on the beds on most lakes but now have headed into deep water with the warm weather. Next week looks like the highs will be in the 70's and 80's and less humidity. This past Monday(in the HIGH heat,) Rick entertained a "homemakers" group on the Gill- Getter. They had a blast and caught fish to take home for group fish fry. The weekend is shaping up with pontoon rentals going out and Gill-Getter outings on Saturday and Sunday. Our bait is holding up nicely but leeches are going into short supply. We are searching out  suppliers to see where they are at with getting more leeches. Give us a call and we'll do our best to have the fishing bait and other supplies you need.
---
6/10/22 - Reported by Wisconsin Fisherman
Reported by Wisconsin Fisherman
The fishing has been really good lately! The big bluegills are starting to come up to the shoreline on beds. Smallmouth bass are also on beds you can find them shallow in lots of rock. The bigger lakes are still at about 60°F and the walleyes are starting to move onto the weed lines. Crappies have been moving back to deeper weeds you can target them with a slip bobber in a minnow.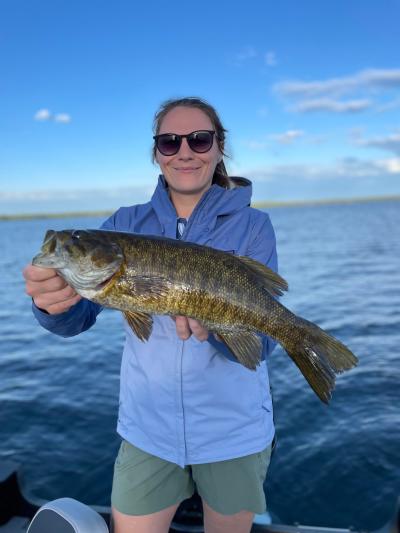 ---
6/10/22 -  Reported by Jim Stroede Guide Service
The wind that had been blowing us all over the lake ever day has finally subsided. Now we are experiencing some beautiful early June weather and the fish seem to be much happier too.  Walleye action is picking up on Washburn County lakes this week. Fish have moved off the banks and now are setting up on weed edges in classic early summer fashion.  We've been catching walleyes in 8 to 12 on jigs and soft plastics and/or leeches.  The crappie spawn seems to be about over now, bluegills will be moving in shallow next. 
Good luck and good fishing,
Jim Stroede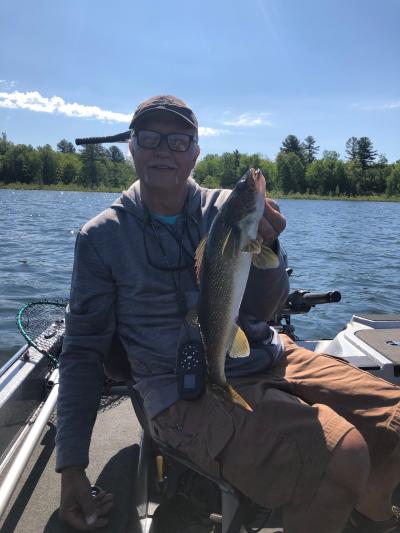 ---
6/2/22 -  Reported by Jim Stroede Guide Service
This week has been very windy in Washburn County, making fishing on area lakes quite challenging.  The best bite we've found has been for crappies. The strange thing about it is how on different lakes we are seeing fish that have already spawned, where on other lakes they are still in the process of spawning, and on a few lakes they apparently have yet to move shallow to spawn. Weird spring for sure. The good news is that nearly every time out we are catching fish.  We've tried some for bass and walleyes a bit and found the bass to be in a better mood than the walleye most mornings.
Good luck and good fishing,
Jim Stroede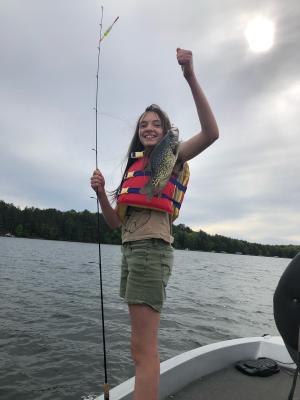 ---
6/3/2022- Reported by  AAA Sports
Summer is here! After a winter and spring that seem to last forever, we are getting some summer weather, just in time for the FREE FISHING WEEKEND!! Yes!! Every state resident can fish Saturday and Sunday without having a license. You can also visit any of the state parks at no charge. Hunting--the final TURKEY season for the Spring  is over. Lots of pictures of successful hunters. BEAR HUNTING. the Bear hunters are able to bait at this time. We have Northwoods, Gone Wild and Bear Scents attractants FISHING-  the "gills and crappies are on the beds on several lakes. Rick is out today with a group from Hayward. This morning I had a group of guys from Northern Illinois in for bait. They have been coming up here every year  for over 20 years. Yesterday they got a few nice bass and 1 big ol' catfish. BAIT. We have leeches, minnows, crawlers, and Rick's FAVORITE--WAXIES! STILL open from 6:00 am to 7:00pm - Coffee's on!
---
5/26/22 - Reported by Jim Stroede Guide Service
Fish have been biting real good on lakes around Washburn County this week.  Crappie action has been strong the past few days as has the bass and pike bite.  Walleye fishing has been ok but not great as the post spawn period is happening now, look for that action to get better with a little warmer weather.
Good luck and good fishing,
Jim Stroede
---
The Wisconsin Department of Natural Resources (DNR) invites the public to join us for the 10th annual Free Fun Weekend, June 4-5, 2022. State park admission fees, fishing licenses and trail passes are waived for all visitors.
Grab your family and friends and head outdoors for Free Fun Weekend and find your adventure. Wisconsin is home to 49 state parks, 15 state forests, 44 state trails, 84,000 miles of rivers and streams, roughly 15,000 lakes and more. 
Saturday, June 4, is also National Trails Day. Whether by foot, bike, ATV, horse or watercraft, Wisconsin has thousands of miles of trails for you to enjoy. Celebrate hometown trails and show your support for trail networks.
During Free Fun Weekend, there will be free fishing clinics at state properties for beginners. Find fishing clinics and more Free Fun events by visiting the DNR's events and programs calendar.
Before heading to a state park, trail or waterbody near you, here are some helpful things to know:
STATE PARKS
Vehicle admission stickers will not be required.
All state parks and trails will be open from 6 a.m. to 11 p.m.
Drive-up windows, playgrounds, bathrooms and observation towers are open.
Office buildings, concession facilities, visitor centers and nature centers are open.
Programs and events are posted on the DNR's website.
 TRAILS
Trail passes will not be required for both residents and non-residents.
All linear/rail trails will be open to the public, including ATV trails and horseback riding trails.
ATV, UTVs and OHMs are exempt from registration requirements. Resident and non-resident all-terrain vehicle operators do not need a trail pass to ride state ATV trails.
 FISHING
Residents and non-residents will not be required to have a fishing license or trout/salmon stamps.
All 2022-2023 fishing regulations apply, including bag and length limits.
This is the perfect time of year for small and largemouth bass, panfish, and northern pike to be active.
New to fishing? Check out free clinics hosted at state properties.
Due to COVID-19 precautions, loaner equipment may not be available. Anglers should bring their own equipment and bait.
Locate launches and shorefishing access points near you.
---
5/21/22 - Reported by  AAA Sports
This is Barb at AAA Sport shop. It's been awhile since I've added anything to this page, but I'll put a reminder on my phone to submit more often.
Opener was a windy day and Sunday was Mother's Day. Lots of anglers held off until the next weekend which was the best spring weather we've had!
Crappies are coming in on the beds, I've seen pictures of 12" plus crappies this week. A variety of bait being used, waxies, crappie minnows, Gulp Minnows, and leaf worms. Jeff M caught a really nice brown trout this past week and Lucas caught some nice brook trout. 
 Meanwhile on the hunting side of the coin, we are winding down on the Spring turkey seasons. Next week starts the last week for turkey hunting.
Moving into the spring (summer is coming!) . We are well supplied with bait, including LEECHES!! 
Customers often ask why we open at 6:00 AM everyday. Well, right now it takes 2-3 hours to get through the waxies, crawlers, minnow tanks and leeches.
So, that's all for now, coffee's on at 6:00AM, Barb
---
5/19/22 -  Reported by  Wisconsin Fisherman
Crappies and bluegills have been on fire lately. With them getting ready to spawn look for 1'-4' of water. The warmer the water the better.
We have been using small plastics and crappie minnows below bobbers for the best result. Also look for over hanging trees and stumps in the water.  We still have availability for fishing trips if your looking for a nice meal of fish or want to learn where to fish. Good luck out there!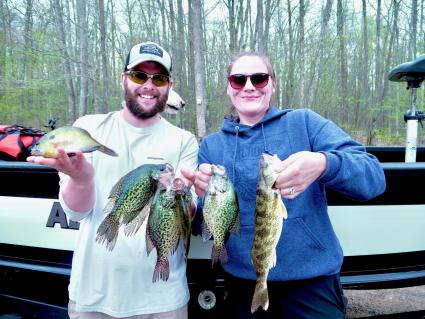 ---
5/13/22 - Reported by Jim Stroede Guide Service
The first week of the season was productive on the Washburn County lake that we fished.  We found walleyes willing to bite a jig and minnow along shorelines. Jigs and soft plastics didn't seem to be what they were looking for in my boat, but we did try some unsuccessfully.  Crappies have been staging in a little deeper water near spawning areas.  Another week should see them move in better.  Water temperatures are in the upper 50's to around the low 60's depending on the lake. 
Good luck and good fishing, Jim Stroede Guide Service (715)520-7043
---
5/12/22 - Reported by  Wisconsin Fisherman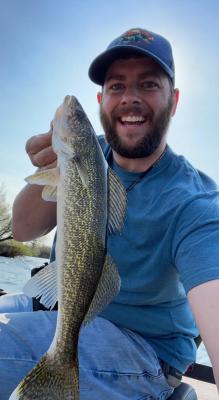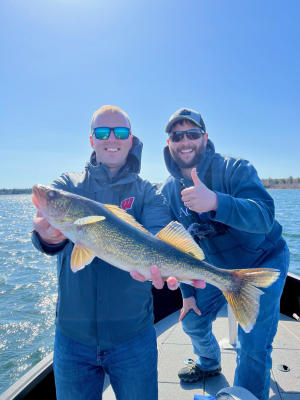 Fishing has been great with water temperatures climbing every day! Most lakes are around 50°F or warmer! Walleyes are heading back to the points and drops offs after their spawn and crappies are coming up shallow to spawn. For crappies look for over hanging trees in shallow water use a bobber with a minnow about one foot deep. Walleyes are still biting but jar in the 10'-18' depth range using jigs and plastics or minnows we've had great success. Call Kyle to book your fishing trip today!
---
2/1/22 - Reported by  Wisconsin Fisherman
Ice fishing has been going well. Most lakes have great ice but always be cautious. The Bluegills have been biting on a small gold jig tipped with a wax worm. You can find them starting to go deeper basins off points and deep weed edges. Pike fishing has been great close to shore in about 10' of water even better if you can find some weeds nearby. The Crappie bite has been consistent with most fish coming right at dawn or dusk from 12' to 25' deep biting on the same small jigs you'd use for bluegill. I have a few weekdays left open for Guided trips. Good luck and Check out the latest video on Wisconsin Fisherman YouTube channel.
---
1/3/22 - Reported by Pioneer on Long Lake
Ice Report - Just over 10" of good hard clear ice with about 1.5" of white ice on top. Was reports of Blackhawk landing being open last week where the trail goes up so we are waiting for that to get set and we will mark the trail!! As always be safe out there. See you soon!
---
10/13/21 - Reported by Jim Stroede Guide Service
We've been doing good on the smallmouth bass here as of late. Catching nice numbers and nice size on a couple lakes in the Spooner area. Most of the time the fish are fairly shallow in 5 to 12 feet of water, and quite willing to snap up a jig and soft plastic combo. Keep changing colors and sizes of plastics until you find out what they like best, and keep moving looking for active bitters. As waters continue to cool we will begin dragging large suckers for Muskies. Stay tuned. 
Good Luck and Good Fishing!
---
9/13/2021 - Reported by AAA Sports
Fall... fishing has been really quite good, Rick had customers out last Wednesday and Sunday and they got their limit on the 'gills both days. One of the woman snagged a nice walleye on her panfish rod! More serious Musky fishing going on too. Bear hunting with dogs started the 8th and I've seen a few of the successful pictures on Facebook. Early goose season is on until the 15th. Duck season is the 18th and 19th for the YOUTH HUNT. And then duck season opens for everyone on the 25th. September 18th is also the opening of archery season and small game. We continue to open at 6:00 Am everyday...the coffee's on!!
---
8/24/2021 - Reported by AAA Sports
Hello from AAA Sportshop!
Summer fishing has been a challenge with the high temperatures. Early morning fishing and early evening fishing has been more successful. There are still a lot of visitors in our area. Everyday we have customers who are exploring our beautiful Wisconsin outdoors. Our bait is currently: crappie minnows, fatheads, walleye minnows, night crawlers, leaf worms and waxies. In another week or so we should have northern suckers and then muskie suckers. Please call ahead to order muskie suckers.
Fall hunting items are coming in. Bear season opens 9/8. Antlerless Bonus tags went on sale last week. Washburn county is sold out of public land but there are over 4000 left for private land. It seems there are a lot of gophers, chipmunks, moles etc. as we have been selling a lot of BB and.177 air rifles and ammo. We are still the place to come and get your Indianhead Rifle and pistol club membership. $45.00 for the year and if you've ever been to the range, you know what a great deal this is. We still open everyday at 6:00 am.
---
8/16/21 - Reported by Minong Flowage Association
Minong Flowage Winter Drawdown Notice
Start Date: September 20, 2021
Drawdown rate not to exceed 2 inches a day
In accordance with the existing Minong Flowage Lake Management Plan, results from the 2020 late summer plant survey and the 2021 spring Eurasian Water Milfoil (EWM) survey, and discussion with the Wisconsin DNR and Washburn County Highway Department, plans are proceeding to drawdown the Flowage the winter to control the spread of EWM. The Washburn County Highway Department Committee has approved the drawdown beginning on September 20 at a rate not to exceed 2 inches a day. The drawdown will be a maximum 60 inches and is to be reached no later than November 1 per request from the DNR.  The water level will start to be returned to normal levels once ice melt has started and ice has receded from shorelines and exposed stumps and logs. It is anticipated to be at normal levels by the 2022 fishing season opener.
---
8/9/21 - Reported by Wisconsin Fisherman (715-416-2145)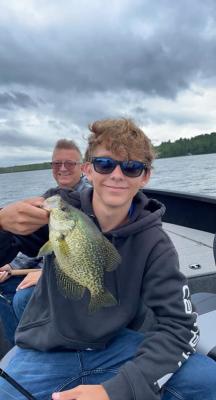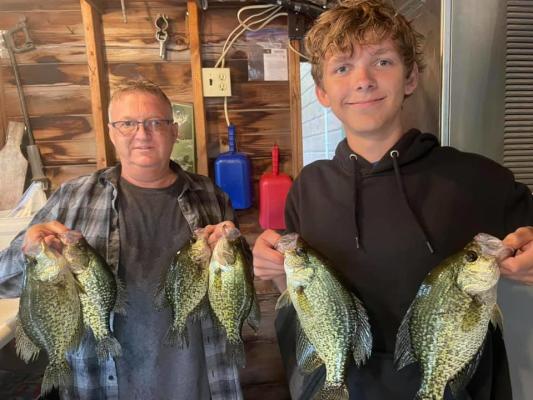 We chased crappies this weekend and found some nice eaters. We were using crappie minnows under slip bobbers set to 6 feet deep fishing 14' of water with weeds. The crappies were coming up for the minnows and even caught a few largemouth bass.
There were also some nice bluegills mixed in the weeds with the crappies. The water temps have dropped a little this past week with the cold weather and rain bringing the surface temperature to around 73 degrees. 
Check out the YouTube: Wisconsin Fisherman for local videos or contact Kyle for a guided day of fishing!
---
7/28/21 - Reported by Wisconsin Fisherman (715-416-2145)
The fishing bite had been steady with Smallmouth Bass and Walleyes coming from leeches and nightcrawlers. 
Use a plain hook with a 1/4oz sinker attached about two feet above the hook and start catching fish. This is a very simple rig to set up and catch many fish. The fish are near the deep parts of most lakes by weed lines 18'-25' deep or near rock. Surface temperature has been hovering around 78F  Spinner baits have still been producing Largemouth Bass and Northern Pike reguallary.  Check out the YouTube: Wisconsin Fisherman for local videos or contact Kyle for a guided day of fishing!
---
7/13/21 - Reported by Wisconsin Fisherman (715-416-2145)
The fishing around the Spooner area has been great with all types of fish biting! The Northern Pike are liking crankbaits being pulled in along the weed edges as well as bass.
The bass seem to like the Jerk baits, big spinners and have been really aggressive.
Walleye fishing has been slowing down but steady. Pulling spinner rigs over deep water tipped with a nightcrawler has been the ticket to catch some of them. The water temperature has been hovering around the 75 Degree mark as it gets higher look to deep water for more fish.
---
FOR IMMEDIATE RELEASE: June 30, 2021
Contact: Lt. Martin R. Stone, DNR Off-Highway Vehicle Administrator Martin.Stone@wisconsin.gov or 608-778-2035
Ride Responsibly This Holiday Weekend
17 Fatal ATV/UTV Crashes So Far In 2021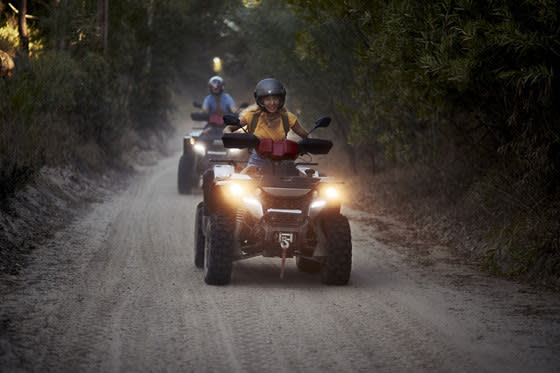 It is the responsibility of all ATV and UTV operators to make the sport a safe one. Brush up on safety tips before heading out for the holiday weekend. / Photo Credit: iStock/wundervisuals
MADISON, Wis. – The Wisconsin Department of Natural Resources (DNR) is asking ATV and UTV operators to ride safely this Fourth of July weekend.
When out with family and friends for off-road rides and adventures, wearing a helmet and seat belt, monitoring speed and brushing up on safety best practices could save your life.
So far this year, 17 people have died in ATV/UTV crashes. Of the 5 fatal UTV crash victims, none were wearing helmets and 4 of 5 did not wear seat belts. Of the 12 fatal ATV crash victims, 10 were not wearing helmets.
"The Fourth of July holiday weekend is often a busy time on our trails and road routes," said Lt. Martin R. Stone, DNR Off-Highway Vehicle Administrator. "This year, 12 of the 17 fatal crashes so far occurred on public roads or routes. We want everyone to stay safe out there; familiarizing yourself with ATV-UTV laws and safe operation practices is a must before you head out."
SAFETY TIPS & SAFETY COURSE
When used safely, ATVs and UTVs provide fun, family recreation and are a valuable tool for working or exploring the outdoors. However, these vehicles are powerful and can be dangerous and even fatal. It is the responsibility of all ATV and UTV operators to make the sport a safe one.
Follow these tips for a safe ride:
Never consume alcohol or drugs before or during your ride.
Wear a seat belt and a Department of Transportation (DOT)-approved helmet.
In addition to a seat belt and helmet, wear protective clothing such as eye protection, gloves, long pants and a long-sleeved shirt.
Keep your speed in check for the terrain, visibility conditions and your experience.
Remember that some terrain in Wisconsin is too steep for ATV/UTVs. Please be careful while traversing hills or uneven terrain.
Know before you go. Review all ATV/UTV laws here.
One of the best things ATV and UTV operators can do to operate safely is to take an online safety course. A list of approved safety education classes is available on the DNR Safety Education webpage.
ATV and UTV operators born on or after Jan. 1, 1988, who are at least 12 years old for an ATV (and at least 16 years old for UTV) must complete an ATV safety certification course to operate in Wisconsin (exception: on private property owned by operator's immediate family).
Wisconsin law requires every operator involved in a crash incident to report the incident without delay to law enforcement officials. In addition, within 10 days of the incident, the operator must submit a written report to the DNR.
For more information on ATV and UTV recreation in Wisconsin, visit the DNR's website.
---
 FOR IMMEDIATE RELEASE: June 16, 2021
Contact: Tara Bergeson, DNR Invasive Species Team Coordinator Tara.Bergeson@wisconsin.gov or 608-516-0487
 
DNR Seeking Public's Help
To Prevent Spreading Invasive Species
June is Invasive Species Action Month in Wisconsin, and easy steps like brushing mud and dirt from boots before hiking in a new area can help prevent accidentally spreading the seeds of invasive plants. / Photo Credit: North American Invasive Species Management Association
MADISON, Wis. – June is Invasive Species Action Month, and the Wisconsin Department of Natural Resources (DNR) is asking Wisconsinites and visitors to take simple precautions to avoid spreading invasive, nonnative plants and animals in our woods, waters and land year-round.  
Invasive species are nonnative plants, animals and diseases that cause great ecological, environmental or economic harm. Some have already been found in Wisconsin, while others pose a large risk of surviving and causing problems if they are introduced and become established here.
The state's invasive species rule (ch. NR 40, Wis. Adm. Code) makes it illegal to possess, transport, transfer or introduce certain invasive species in Wisconsin without a permit. The regulations designate which species are Restricted or Prohibited based on factors including the degree of harm they may cause to people, the native ecology or the economy.
How You Can Help
To prevent the establishment and spread of invasives, the DNR offers the following tips:
Hikers and campers should clean mud and dirt off their shoes and remove seeds and burs from their clothing before visiting other places. Taking these simple steps can prevent inadvertently moving invasive plants to new areas via seeds that may be on clothing or in the mud or dirt.
Firewood is a significant pathway for the movement of many invasive insects and pathogens such as emerald ash borer, gypsy moth and oak wilt disease. To help protect the state's trees where you live, play or camp, use local firewood to avoid moving pests to new places.
Anglers and boaters can help protect vulnerable areas from aquatic invasives such as quagga and zebra mussels, Eurasian water-milfoil, New Zealand mudsnails and Asian clams by cleaning recreational equipment and gear after every use. Inspect gear for dirt, mud, seeds and other debris and remove as much as possible.
Drain all water from gear before leaving a site and wash it with 140-degree water or steam to remove invasives too small to see. Drying gear for five or more days between use also helps destroy invasive organisms. For more information, check the DNR's aquatic invasive species webpages.
Gardeners are encouraged to plant and promote beautiful native plants that can benefit pollinators, birds and other wildlife or traditional gardening plants that are noninvasive. The DNR's Plant Native Plants webpage has many great informational resources to get started.
Gardeners can also look for and remove potential problem plants, including purple loosestrife, hairy willow herb, butterfly dock, yellow iris, nonnative phragmites (common reed), lesser celandine, water hyacinth, water lettuce and frogbit.
Invasive Species Action Month is promoted by the Wisconsin Invasive Species Council, which the Wisconsin Legislature created to assist the DNR in establishing a statewide program to control invasive species. The Council is now assessing species currently regulated and additional species that might be considered for future regulation.
Visit the DNR's invasive species webpages to learn more ways to prevent invasive species from establishing in Wisconsin.
---
5/10/21 - Reported by Wild Country Guide Service
The cold nites and cool days have really  cooled off the water temps. However the fishing is still pretty hot! Had some nice folks out this past weekend from the Twin Cities area and we caught walleyes on three different presentations. VMC mooneye jigs with a rainbow minnows, Slipbobbers with minnows and tossing emerging weedlines in 4-7 feet with Storm 360 swimbaits. Walleyes we caught on minnows where from 10-16 feet. I was marking these with my Hummingbird Helix 10 and would punch in a waypoint and spot lock on them with my Minn Kota Ulterra trolling motor. Caught a few nice crappies also along with some Dandy largemouth bass. Warmer days are on the horizon which will  bring the crappies and bass in to the shoreline to spawn. Please keep a few for the pan and release those bigger crappies that is really important for the resources. My clients said they were going to have walleye for Mothers Day breakfast! Good Luck and most of all have fun out there!!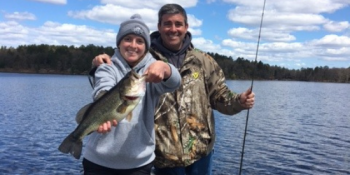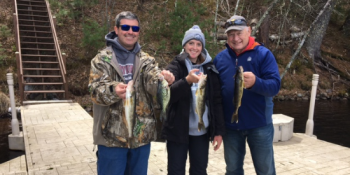 ---
For Immediate Release: February 18, 2021
Contact: DNRPress@wisconsin.gov
Ice Shanty Removal Dates Approaching
MADISON, Wis. – The Wisconsin Department of Natural Resources (DNR) reminds anglers that ice shanty removal deadlines are approaching.
Permanent ice shanties, or those not removed daily, must be removed from all state waters by March 15. Early deadlines such as those for inland and boundary waters are:
Wisconsin – Iowa boundary waters by Feb. 20
Wisconsin – Minnesota boundary waters by March 1
Inland waters south of Highway 64 by the first Sunday following March 1
Lake Michigan, Green Bay, Lake Superior and inland waters north of Highway 64 by the first Sunday following March 12
Wisconsin – Michigan boundary waters by March 15
Anglers can continue to use portable ice shanties after these dates, so long as they are removed from the ice when they are not actively in use and at the end of each day.
As these deadlines approach, it's important to remember that no ice is ever 100% safe. The DNR does not monitor ice conditions, so anglers should check with local fishing clubs and bait shops for current ice conditions.
Owners having difficulties removing their shanty should seek help from their local fishing club, vendors and other anglers.
The public should report any shanty owners not taking responsibility for removing their shanty to the DNR Violation Hotline by calling or texting 1-800-TIP-WNDR or 1-800-847-9367.
---
2/10/21 - Reported by Wisconsin Fisherman
The bluegill bite has slowed down a little bit however with that comes the Northern Pike Pre spawn. The pike get very active this time of year and are biting large shiners. You might get lucky and catch one of the giant 40 incher that are in several Washburn Co lakes. There is about a month left before the big game fish season closes up for the north part of the state.  Crappies are still biting minnows and small jigs with waxies. You can find them in deep holes sitting suspended in about half the water column. Check out the YouTube-Wisconsin Fisherman for local videos!
---
1/18/21 - Reported by Jim Stroede Guide Service
Ice fishing has been steadily good on lakes around Washburn County this week. Bluegills are biting well most mornings in the 6-12 ft depths on tungsten ice jigs tipped with a wax worm or spike. Northern pike and largemouth bass are hitting shimmers on tip ups out on the deeper weedlines. Good luck and good fishing!
---
1/18/21 - Reported by Pioneer on Long Lake
ICE REPORT! Just shy of 14" total, 9 1/2" of good hard clear ice. Trails are open, there is still some slush on the lake, hopefully will be able to groom before the weekend.
---
1/11/21 - Reported by Pioneer on Long Lake
ICE REPORT! We have 13.5" total in front of Pioneer, a little over 8" of good hard clear, 2" of mixed and 3.5" of white soft ice. The lake is completely marked, we groomed the south end of the lake on Friday night then ran into slush headed north. All Washburn county trails are open, but not in the greatest shape. Hoping for some snow later this week and to be able to groom the whole lake. As always there is no such thing as safe ice everyone use your best judgment.
---
1/7/21 - Reported by the Long Lake Chamber of Commerce
The lake is staked! Huge thank you to local volunteers for helping out!! The ice is 8"-10" pretty much everywhere, we are hoping to be able to groom the first time before the weekend but that will all depend on how these slush pockets work out. We will keep you posted!
---
1/4/21 - Reported by Pioneer on Long Lake
ICE REPORT! So we have 7" of good hard clear ice with 3 1/2" of soft white ice on top. I rode the entire snowmobile trail on Saturday on the lake and the ice was anywhere from 6 1/2" to 10". We are most likely going to have the lake staked before the weekend. Not 100% on if we will be running the groomer right away or not. 
---
12/28/20 - Reported by Pioneer on Long Lake
ICE REPORT! We have 7 /34 of hard clear ice, with about an inch of slush on top. It is currently snow and more in the forecast. Cold weather will hopefully solidify the slush.
---
12/21/2020 - Reported by Pioneer on Long Lake
ICE REPORT! 6 7/8THS! 32° this morning with a fresh inch plus of fluffy snow. Looks like some very cold weather heading our way late this week so we are hopeful that we will get the lake marked mid week next week before the first of the year!! Snowmobile trails are not open yet. As always, there is no such thing as safe ice, use caution.
---
12/17/2020 - Reported by Wisconsin Fisherman
Ice is finally here but with that comes the reminder that no ice is "Safe" ice! Always check as you go. Most small shallow lakes are freezing up pretty good and have 4"-6" of ice. The bluegills have been biting really  good on the traditional small jig and wax worm. They seem to be hanging around shallow weeds in about 10ft of water. The Northern Pike bite has been really good as well with the bluegills when you are jigging, place a tip-up or set line near you with a minnow and you should see some pike action and maybe even hook into a Largemouth Bass. Remember to have your spud bar and be checking the ice as you go.
Check out the latest Wisconsin Fisherman videos! 
---
12/14/2020 - Reported by Pioneer on Long Lake
ICE REPORT! We did make a little ice this week despite the warm temperatures. We now have 4 5/8. Got a light dusting of snow overnight, and have cold temps in the forecast for the week. Early fishing reports are good, be sure to bring your cleats because the ice is like glass!
---
12/11/2020 - Reported by Long Lake Bait, Tackle & C-Store
After coming off an "unseasonably" warm day yesterday reports coming in anywhere from 1" - 5" with open waters at entrance to Narrows and to the left of the Narrows Boat Landing.
A few Walleyes, bass and panfish being caught.
---
12/7/2020 - Reported by Pioneer on Long Lake
ICE REPORT! 3 3/4 Inches about 50ft out in front of Pioneer, we got a light dusting last night that is covering the lake, but should not hinder ice making. Warmer temps this week, for a few days but cooling over the weekend. Getting reports from around the lake saying there is some open spots still, up by Belvidere Bay. As always, there is no such thing as safe ice so please use caution and stay safe!
---
10/20/19 - Reported by AAA Sports
When the cold winds blow and the snow starts to fall, the muskie fisherman take to the waters in a big way. This past week we had several muskie anglers in, with a lot of them using the big suckers minnows for bait. The snow and wind also pushes the leaves off and silences the ground, and make visibility in the woods so much better. Handgun, rifles and shotguns continue to move out the door. There are more grouse this year and that makes those hunters happy. It's been a pretty dry spell for grouse for the past few years. Archery deer season is in full swing and there's a lot of nice bucks showing up in guys Facebook pages. Bear season ended last week, again there were a lot of successful hunters. The pretty fall colors have given away to cold, windy days, even a little snow in the air. The ice fishing items are arriving daily. We could be on the ice in a very short time! Coffee's on at 6:00 AM, have a good day!
---
FOR IMMEDIATE RELEASE: Aug. 31, 2020
Contact: Jake Swanson, DNR assistant wildlife communications specialist
Jacob.Swanson@wisconsin.gov or 608-235-4829
Fall Hunting And Trapping Season Forecasts Highlight Hunter Opportunities, Notable Changes To Limits And Zones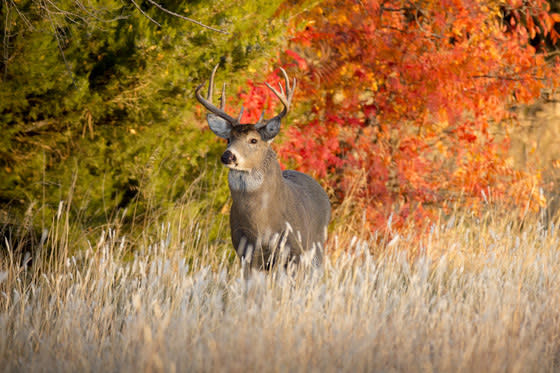 Archery and crossbow season begins Sept. 12. Check the DNR website for a full list of upcoming season dates.
Photo Credit: iStock/Ricardo Reitmeyer
MADISON, Wis. – Hunters and trappers across Wisconsin are in the final countdown to the fall season openers. To help get ready, the Wisconsin Department of Natural Resources (DNR) has pulled together the 2020 fall forecast series, which details everything Wisconsinites need to know ahead of the game.
Forecasts can be found at the links below and on each corresponding species page.
2020 Fall Deer Hunting Forecast
2020 Fall Upland Game Bird Hunting Forecast
2020 Fall Migratory Bird Hunting Forecast
2020 Fall Bear Hunting Forecast
2020 Fall Furbearer Hunting and Trapping Forecast
More information on hunting, including regulations and season dates, is available on the DNR website. For more updates throughout the fall hunting seasons, follow the DNR on Facebook, Twitter and Instagram. 
---
8/6/20 - Reported by Wisconsin Fisherman
Most fish have moved deep if the lake allows, If fishing a shallow lake find the cool places like Lilly pads and shaded areas for bass and bluegill.
We found some bigger bluegills in water from 30' deep to 15' all stacked on fish cribs. Trolling with divers along weed lines should intrigue some toothy predators to bite like northern pike and walleye. Crappie have turned to a slow presentation like a sinking fly on a fly rod. Good luck to all anglers! Be safe and have fun, remember to check local regulations and laws.
---
8/6/20 - Reported by Wild Country Guide Service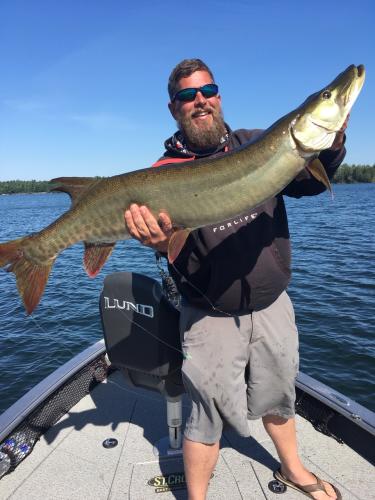 Caught this beauty on a Washburn county area lake this morning 8/6 with clients from Missouri. Fish came off a deep weed line on a Blue Fox Super Bou spinnerbait. Had a couple others follow. Key was fish where active during the moon set period. - Billy Rosner, Wild Country Guide Service
---
7/3/20 - Reported by Wisconsin Fisherman
The water temp has been heating up and fish are starting to transition to deeper structure like rock bars, fish cribs, and deep weeds. A leach or minnow on a slip bobber should produce a variety of fish. The target depth for that set up is about 12-16 feet deep. The Northern pike have been aggressive on spinners and shallow diving crank baits in shallow bays and weed edges. Crappies are still hanging around and hitting on minnows and small crank baits like the Rapala Countdown. Walleyes can be caught with a number of techniques like jigging with sucker minnows or Lindy spinner rigs. Be safe out there and catch some fish!
---
6/10/20 - Reported by Wisconsin Fisherman
The bite has been heating up with most fish up in shallow weeds or even on beds! Slip bobbers and leaches are working for just about anything right now! With the temperature heating up the fish should be moving to deeper jumps and points. You can still fish them deeper with the slip bobbers too and be effective! The bass are starting to hit too water baits like fake frogs and buzz baits. Stay safe and be aware of each lakes fish size limits and local laws.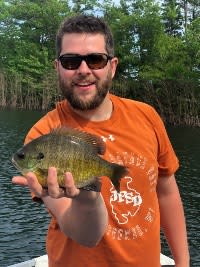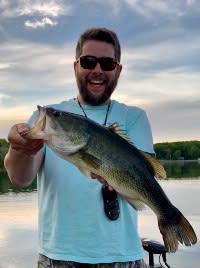 ---
3/4/20 - Reported by Wisconsin Fisherman
  For more videos from Wisconsin Fisherman, subscribe to his channel on YouTube.
---
3/2/2020 - Reported by the WI DNR
Ice anglers are reminded that the last deadline in a series of March dates to remove permanent ice shanties from state waters is Sunday, March 15. Shanties must be removed from waters north of Highway 64, which includes all of Washburn County, and all other outlying waters by the end of that day. Earlier March deadlines covered inland and boundary waters. The Wisconsin Department of Natural Resources is urging anglers not to wait until the deadlines as possible warming temperatures and early spring rains could complicate removal.
Deadlines to remove shelters help eliminate spring shoreline litter and boating dangers this spring. Abandoning the shelter or burning the shelter atop the ice does not satisfy the deadline. The debris then goes into the waterbody, impacting water quality.
After the shanty removal deadlines pass, anglers can continue to use portable ice fishing shelters if they feel the ice is safe - as long as they remove their shelters daily and when they are not actively used. Remember to consult with local fishing clubs, bait shops and outfitters who know the local ice conditions. Permanent shelters, meaning those normally not removed daily from the ice, must be removed from the ice no later than the specified removal date for that water body.
---
2/12/20 - Reported by Wisconsin Fisherman
 For more videos from Wisconsin Fisherman, subscribe to his channel on YouTube.
---
12/23/19 - Reported by AAA Sports
This nice warm weather has the snow settling on most of the lakes. Good ice on Bashaw; they are actually on Bashaw with four-wheelers. and catching some nice northern. Lots of pan fish coming out of the Yellow River across from Tony's in Spooner. Landings are not plowed off on Spooner, but guys are walking out and getting decent northern. We had a nice walleye come in from Trego flowage. Our thoughts are that after this warmer weather is over the cold weather will give us some really good ice. There are quite a few people out fishing, just know where you're going!! It's still archery season so time to finish filling those empty tags and also turkey hunting until after the new year. WE ARE OPEN ALL DAY ON CHRISTMAS DAY...
---
11/18/19 - Reported by AAA Sports
The hunt is on!! In just a few days, the Northwoods will be full of the mighty deer hunter. Are you ready? Deer call...gun cleaned...ammo...orange clothes...heater...deer drag...LICENSE!! We will be open until 9:00 on Thursday night and open at 5:00 on Saturday morning. Hot coffee, rolls and doughnuts!!!
---
10/1/19 - Reported by AAA Sports
For those of you wondering how the Spooner Lake draw down is going, the answer is "very slowly". They started the drawdown on Sept 3 and the proposal was to take it down 3'. As of today, Oct 1st, Spooner Lake is down a little over a foot. we've had lots of rain. Most lake home owners had pulled their boats, pontoons and docks out of the lake by Labor Day.
A few brave souls left these items intact and have been able to enjoy the lake throughout September and catching some nice fish in the process. Musky fisherman are hitting the lakes hard.
FALL HUNTING...Bear hunting has been going on for the past month and there have been some nice bruins. Archery season has been on for 2 weeks but is just starting to get going as the leaves start to fall, and the temps are going down. There have been lots of pictures of successful geese hunters and this past weekend duck season opened.
---
9/9/19 - Reported by Jim Stroede Guide Service
Cooling waters around Washburn County have the musky's turned on this week. Lots of good fish are being caught as of late. Bucktails and topwaters are doing very well, most of the catchable musky's have come from ten feet or less of water on local lakes. Walleyes here have been tough this week, a few are coming on jigs and minnows out in deeper water. Overall it's been tough to catch multiple fish on any one spot. Crappies are starting to get active as fall arrives, look for the fishing for them to get better as time goes along. Good luck and good fishing!
---
9/2/19 - Reported by AAA Sports
Fishing over the weekend was good; cooler temps must make the fish hungry. We still have leeches for probably another week yet. We have walleye and northern suckers. No musky suckers yet; call ahead if you're looking for them and we'll let you know the status. Bear season opens this Wednesday. Archery season opens on September 14th. We will be starting dock work in the next week. If you need help pulling your dock, boat or pontoon out of the lake, give us a call. Fall colors will be here before you know it...where did summer go?!?!
---
8/19/19 - Reported by Jim Stroede Guide Service
Some nice cool nights have really made it feel a bit like fall here in the Northwoods. Water temperatures on area lakes have dropped a little down to the mid to low 70's.  Musky fishing is picking up, we boated a couple over the weekend on minnow baits. This time of year usually does see an increase in musky fishing success. Topwaters, bucktails and minnow baits are all working well. Walleyes are a bit tough right now, smallmouth, largemouth and panfish are still going strong.
Good luck and good fishing!
---
8/12/19 - Reported by Jim Stroede Guide Service Fishing around Washburn County remained good this past week, cooler nights and early mornings have dropped water temperatures from around 80 down to the 75 degree range. In my guide boat we're getting a mixed bag of fish each time out. Largemouth bass and bluegills have been dominating the catch, but we are getting some smallmouths and a few walleyes as well. The best action seems to be centered around deep weeds. Also of note is a good smallmouth bass bite on the local river stretches. Good luck and good fishing!
---
8/7/19 - Report by WI DNR 
 A family of rare Franklin's ground squirrels is settling into new digs here before its long winter hibernation begins, thanks to team work by active and retired DNR conservation biologists, a Northland College professor and his students, and private property owners. The partners trapped and moved the rare squirrels from a private property in Douglas County where they were causing problems and released them on another private property in Washburn County where the landowner had been actively restoring habitat for rare native species historically found in the area. To read more, click here.
---
8/6/19 -  Reported by Kyle Tyree "The Wisconsin Fisherman" 
The Fishing has been pretty good, deeper water is key finding weed edges and drop offs have been good for Northern pike bass and even deep bluegill! Big large mouth bass have been hanging by Lilly pads using top water baits such as a fake frog has been working very well!
The spring turkey hatch has also been seen around the east side of Washburn county with chicks running around the Hen turkeys. When you see a hen turkey in the ditch, if you slow down and look in the grass, you see can all the little chicks!
---
8/6/19 - Reported by AAA Sports
The hot weather has the fish going deep, fishermen (and women) are adding split shot to their lines for the crappies and sunnies. For the game fish, people are using more deep diver such as  Rapala DT series. Bass seems to like the scented worms and almost anything that looks like a frog. Chatterbaits have been selling well too.
---
7/22/19 - Reported by Jim Stroede Guide Service
Mid summer fishing around Washburn County has been very good the past week.  Walleyes and bass are really going good right now. Most fish are coming from the deep weed edge on area lakes in 10 to 15 feet of water.  Some nice bluegills and crappies are showing up at times too. Early mornings are the best times now, the bite seems to slow during the middle of the day. Musky fishing has been picking lately too. Topwaters and bucktails early and late in the day have been catching some good fish.  Main lake weeds and rocks are the best locations currently, always check to see if the open water bite is happening also. Good luck and good fishing,
Jim Stroede
---
  7/9/19 - Reported by AAA Sports
 Fishing has really picked up the past few weeks. Gills are biting on the waxies and crawlers. Walleye on the leeches using a lindy rig. Few northern coming in from using the old stand by, red and white daredevil. Bass like the worms this year and chatterbaits. Don't forget our monthly fishing contest, $10 in store credit for the largest fish in each category...all sizes from perch-muskie. Coffee's on at 6:00 AM!!
---
7/8/19 - Reported by Jim Stroede Guide Service
Summer fishing is here and going very well at the moment.  The best bite is the multi species bite, walleyes and largemouth bass have been providing the majority of the action all around the county. Days with a little wind seem to be out producing flat calm days, mornings have been best but don't overlook the evening time frame too. Musky fishing has been a bit tough for us overall, we have picked up a few fish on topwater baits towards dark lately though. Surface water temperatures are in the low 70's on the lakes we've been fishing.
Good luck and good fishing,
Jim Stroede
---
6/10/19 - Reported by Jim Stroede Guide Service
Summer has arrived in the Northwoods and the fish are loving it!  Action has picked up for all species across Washburn County.  New weed growth is holding lots of bait right now and the predators are there too. 
We've been using both minnows and leeches as live bait about equally well for a mixed bag of walleyes, bass, pike and panfish. The crappies are done spawning and the bluegills are next to move shallow.
Musky fishing has improved as well with a few fish being caught in shallow water on some of the smaller lakes in the area.
Good luck and good fishing!
---
6/11/19 - Reported by AAA Sports
The fishing took off this past week with the arrival of those warm days. Depending on the lake the crappies and gill were just getting on or off the beds already. Bass fishing has been really good ( look at the pictures on our website!) Northern and walleye sucker minnows continue to be at a shortage. We have shiners and they do well if you have an insulated aerated bucket. We have leeches by the dozen except for regulars which we have by the 1/4 pound also. Pontoon rentals are filling up fast. The dock crew finished the last of the docks over the weekend.
---
5/20/19 - Reported by Jim Stroede Guide Service
Fishing around Washburn County has been improving here lately. We've been on a good crappie bite on a couple of lakes.  Fish are shallow and looking to spawn along shorelines with scattered wood. It's important to remember not to over harvest when fish are so bunched up in a tight area. Walleyes are playing hard to get where I've been fishing, we've caught a few on jigs and minnows but it's been tough overall. The musky season opens on Saturday, we'll be looking for a big bite that day for sure. Good luck and good fishing!
---
5/13/19 - Reported by Long Lake Bait, Tackle & C-Store
Spring is here! The Bears are out, Humming Birds and Orioles are back!
Water temps on Long Lake Mother's Day weekend ranged from 47 degrees on the main lake and 52 degrees in Mudd Lake.  Fishing was slow, but some nice fish were caught.  20-26" Walleyes were caught in approximately 7-10 feet of water using Fat Heads and Medium Leeches. Also a few nice Northern and Bass in the shallows. Crappie and Bluegills are hanging out at about 2-3 feet depths. Crappie minnows are working best.  We are expecting temps this week in the 70's so that should get things rolling and warm up the water!
---
1/14/19 -  Reported by Kyle Tyree "The Wisconsin Fisherman"
The fishing has been great! The fish are sticking in the weeds We have seen Bass, Crappie and bluegill all schooling together.
The jig bite has been great with many panfish on most lakes. It seems like red/pink with a wax worm is the color the bluegills like. Tip up action is a medium bite this time of year, the perch have been aggressive on tip ups with smaller shiner minnows.
---
1/6/19 - Reported by Long Lake Bait, Tackle & C-Store
Ice conditions on Long Lake are coming in at anywhere from 7" - 12" with a few spots reported at 4" (on the back side of Kunz Island).  The lake snowmobile trail has been marked.  Fishing has slowed since the cold snap after Christmas.  Reports of panfish hitting at about 21' and a few nice sized walleye and northern have also been caught.