While I am one for a good car ride with the windows down to take in the fall colors… There is something to be said about paddling down the river during the peak fall color and being surrounded by the northwoods wilderness. So let me give you a few inside tips for heading out on the river. 
First things first, if you don't have a canoe or kayak, the amazing river outfitters in Washburn County are here to help. They will get you set up, along with a floatation device, paddles, a shuttle to the landing & get you back to your vehicle without a hitch. There are a few different outfitters to choose from: Camp Namekagon in Springbrook, Jack's Canoe Rental in Trego, and Log Cabin Resort, also located in Trego. Heartwood Resort also offers river trips, complimentary for all guests staying on the property. Each one outfits different stretches of the river so, depending on which part of the river you want to enjoy, it will help you narrow down your options.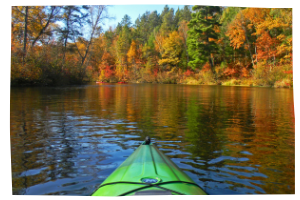 Next, pack a lunch, or some supplies for a snack break. There are many different boat-in campsites along the Namekagon River. These campsites make a great stopping point, even if you aren't one for sleeping under the stars. Plus, it gives you more time to be outside enjoying the colors & who wouldn't love that? 
And my last tip, just take it all in. Being on the river is a great way to escape the hustle and bustle of our everyday lives. We often get so busy, we forget to take in the beauty of the northwoods that surrounds us. The flowing river, the colorful leaves, and the adventure all wrapped into one afternoon is simply perfect.