Have you ever wondered how in the world such a great brewpub ended up in a quaint little town tucked away in the Northwoods?
We recently had the opportunity to sit down with the Churchill family, the masterminds behind this incredible operation, to dig deep into what started all of this, into what started Round Man Brewing Company. 
Let's Get Back to the Beginning
If you're from the area, there's a small chance that you remember China Night at the Spooner Golf Course back in the late 80's. Well, Jeff Churchill, also endearingly known as The Round Man, and his wife, Sue Churchill, certainly still do. This was their first real look at Washburn County, and just like that, a romance ensued. Shortly after that memorable night, Sue and Jeff found a lovely little rental cabin on Cable Lake right on the outskirts of Spooner. What's that cliche? And the rest is history? Okay, maybe we're getting ahead of ourselves a bit. From then on, the Churchill family spent their summers sipping on cocktails and dangling their feet off the dock. Did someone say The Dock? There we go again... getting ahead of ourselves. As for the kids; Blain, Xan, & Spencer grew to love our little city of Spooner. Jumping off the pontoon, rolling marshmallows over an open flame, and watching bobbers dip beneath the crystal clear water were all part of their annual June and July routines.
It wasn't long before the Churchill's were ready to step a little further. In the early 2000's, one of their dearest neighbors, Richard Scalzo, took a stroll down Cable Lake Road to knock on the door of that lovely little rental cabin. After a couple Windsor's and a beer or two, a deal was struck. The Churchill's were officially second home owners. Renovations were made, dreams were transpired, and memories were manufactured. It wasn't long before Spooner began to feel more like home than home did. After a few more beers and a few more years the decision was made. The Churchill's packed their bags and said goodbye to Rochester, Minnesota as they headed north to make their favorite vacation spot their new forever home.
Having just retired from the Mayo Clinic in Rochester, Sue was left with a choice, to help Jeff with the yardwork or to take a giant step to execute a dream. Okay, it probably didn't go exactly like that… but they're an industrious bunch and it was time to once again step a little further. With the help of the Dahl family and many friends along the way, Xan, Sue, and Jeff opened the doors to Spooner's newest coffee shop, The Dock Coffee. Here, roots were established and a legacy was built. Spencer commented saying, "While many come into our businesses and see it as a unique coffee shop or a cool new brewery, to us, it is something much greater, it is a part of who we are and a representation of our vested interest." While Spencer surely is right about that, we see something else entirely and that's a family that is truly passionate about serving others and providing smiles one sip at a time.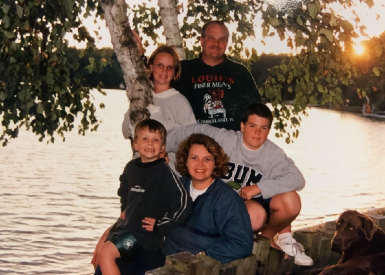 The Churchill Family circa 1998
First There Was One, Then There Was Two
When they first started, The Dock Coffee was meant to be nestled in the front window of the Spooner General Store selling drip coffee and hand-scooped ice cream. But, as anyone who's ever built a business or a home may know, things have a tendency to snowball into something greater than you may have imagined. Their desire and drive led them to do much more than that once so seemingly little idea and create what their family strives to build everyday, an experience as memorable as the one that anchored them in Washburn County. And so it was, in April of 2015, the doors of this once distant dream opened to become The Dock Coffee that we all know and love today.
Throughout the Churchill's tenure owning and operating this warm and welcoming main street coffee shop, they look back to hearing the same oh-so-familiar question. "Where do we go to eat?"  While sandwiches, pan pizzas, and an array of outstanding soups are available at The Dock, the Churchill's knew what they meant. The Churchill's recall places all around the community where an evening meal and a cold beer only served to further their love interest in our beautiful community. So their wheels began to spin. "We wanted to create an experience. To create a reason for people to say 'Remember that cool spot in Spooner, that was so much fun…', so we did all we know how to do, we got to work.", Sue said. 
Long before the option even presented itself, owning a brewery had been a regular point of discussion, but now it was becoming a little more than a point of discussion. It was something obtainable. It was something close. Spencer points out, "We're a family of beer, food, and wine lovers. We like the social aspect they carry. The importance they have in our lives. From meeting an old friend to catch up to sitting down with the family for a fish fry. We're entertainers, it's in our blood." So, they talked, they planned, they laughed, they yelled, and they sat down after all that and shared a beer. They were once again ready to step just a little further.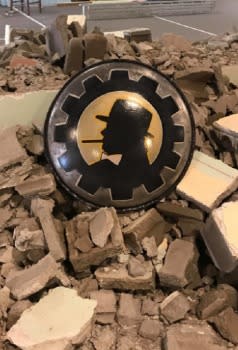 After a few hiccups and a few beers (we're starting to see a repeat theme here), the Churchill's had found their perfect location, the original Dahl's Homestore building, right on Spooner's main drag, Walnut Street. As the plans kept growing, the thought of a brewery alone didn't seem to be quite as much as they wanted, the decision was quickly and easily made to evolve from a brewery and a tap room, to a full service brewpub. Shortly thereafter, the work once again ensued. "We drove nails, we hauled lumber, we sweat, we bled, we cried, we laughed. It was definitely not easy, but the things worth having hardly ever are," said Jeff. And just like that, art was created, trust us when we say you have to see this place for yourself.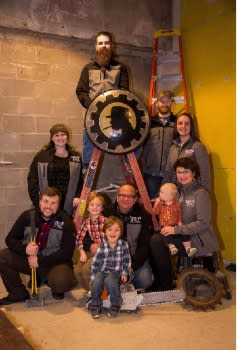 On November 2nd of 2018, Round Man Brewing Co. opened its doors to the public, roughly a year after their purchase of the building. Through the construction phase of the project Sue reports that there were about 200 people employed at one point or another to help turn the once furniture store into the Northwoods attraction that it is today. The brewpub now has nearly 50 employees working behind the scenes on a daily basis, serving guests, mixing cocktails, flipping steaks, hauling grain, and everything in between. Take it from us, it's a well-oiled machine. The service from every single person is friendly and expedient. The food is beautifully plated, with fresh new flavors. Spencer comments that, "We've designed this as a come-as-you-are atmosphere, where you can sit back, relax, and let us do the heavy lifting."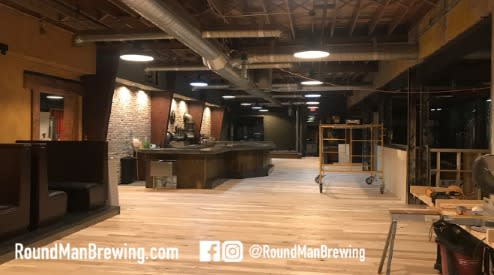 What's in a Name?
We love stories and just had to know, so here it is. The minute you step into Round Man Brewing Co. you'll immediately get hit with a raw, tough, industrial feel. "This was by no accident." Blain says, "We loved the style and feel of that industrial revolution look, we're also a little crazy about Winston Churchill history, because, well… Churchill." The family went on to explain a short story about a past position Jeff held where he marketed maintenance equipment to golf courses, one of them being Willow Creek Golf Course in Rochester. Here, Jeff would stroll into the clubhouse where a man by the name of Wendell Pittenger would graciously greet him with a boisterous "ROUND MAN!", and just like that a nickname was formed. Fast-forward a good 20 or 30 years and the family sat debating a name. They knew Winston Churchill would play a definite part in the construct of their new brewpub's image, they also knew that Winston Churchill and Jeff Churchill shared some similar features, that feature being a relatively round one. And so it was decided! The Round Man Brewing logo featured below reflects the silhouette of the Churchill stature, you'll see it on most everything the brewpub puts out including their growlers, stickers, and apparel.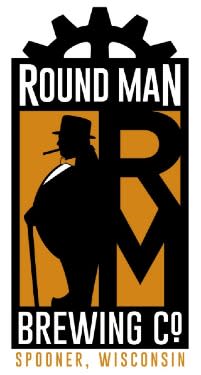 What's Next?
So what's next for the Churchill's? Well, their wheels are always spinning and you just never know what they could be going for next. But as of now, they're content; new brews, new flavors, and plenty of memorable moments can be found right here in the heart of Washburn County; Spooner, Wisconsin. If you're in the area, take the time, make the stop, and feel the connectedness. Under their roof, everyone is a part of the Churchill family.