From a small clay studio set up in a church to The Potter's Shed that we know and love today, there's an incredible story behind the music, art, gorgeous garden, and even the fairy doors that make up this well known attraction. Affectionately referred to by their local patrons as simply "The Shed", it's no wonder that they won the award for Washburn County's Tourism Business of the Year in 2018. For those of you who aren't familiar with The Potter's Shed and all it offers, this is one of Washburn County's most well-known and well-loved places to visit and spend time.
What is The Potter's Shed:
The Potter's Shed is a 20,000 square foot art campus with a production facility, attached art gallery housing over 100 artists' work, cafe/coffee shop, and creative zone where you can paint your own pottery or make your own wood sign. One mustn't forget the breathtaking garden where the fairies live (yes, there's even a map to find their hidden doors!) and enjoy amazing music on Friday nights during the summer months. Phew...is that all?! No, of course not, The Potter's Shed offers so many activities, art to admire, and they are always adding fun new things to the mix! You might find yourself asking how they keep coming up with all of the fun things they offer; it's simple really, an amazing team! This family-run business has assembled a phenomenal group of employees over the years who are always coming up with new ways to attract visitors to their business.
Check out this video tour:
About the Art:
Have you ever seen the pottery making process? If you haven't, it is truly more complicated than you think! Macone Clay makes their own clay which is specially formulated for the products they produce. Their talented glazing staff first uses underglazes to hand paint the designs. The clay is loaded for a "bisque" fire which hardens the clay in preparation for the final glaze. This first firing takes two days to heat and cool. The pottery is removed from the kiln and an overglaze is applied. The pottery is loaded again for a "glaze" firing which reaches 1800 degrees in approximately 5 hours, and then cools back down in about 10 hours. Each design has been created by the talented owner, Michael Macone. Michael has designed countless designs ranging from intricate tiles, simple houseware items, and even fairy houses. Each year he introduces over 40 new designs to the Spooner Creek and Macone Clay product lines. His artwork is sold wholesale to gift shops and art galleries around the country and even abroad.
Another type of artwork that The Potter's Shed is well known for is the "raku" style pottery. In fact, this is one of the types of pottery that you can decorate yourself in the creative area. Raku is an ancient Japanese firing process that dates back to the mid 1500's. Raku glazes have copper in them which create a metallic or sparkly appearance when fired. Visitors can glaze their own pottery and then watch it pulled from the glowing red hot kilns and catch on fire. The uniqueness of raku lies in the fact that it can be heated and cooled in a relatively short amount of time due to the nature of the raku clay and its ability to resist thermal shock. Check out this video of pieces being pulled from the raku chamber to cool. 
Behind the Scenes:
Raku Firing:
A Peek into the Kiln Room:
The History:
If you had to sum up the creation of The Potter's Shed in one short phrase, we believe it would be "One thing led to another." As Michael, Rebecca and family were sharing their journey with us, every turn seemed to have that common thread, leading of course to the thriving business we see today in quaint Shell Lake, Wisconsin. When we asked Michael to share how The Potter's Shed got its start, he responded with "I knew I was going to be an artist from the time I picked up a crayon...I guess God put that in me." Michael's interest in art was focused on painting until his junior year of high school when an intern by the name of Bruce Kaupanger began teaching at Rice Lake High School. It was this "super cool" pottery major from UW-Eau Claire with big sideburns who got him interested in clay during that year. Michael hung out in the art room with Bruce whose passion for clay rubbed off on him. From that moment on, Michael focused on clay and began to notice that it was more marketable at local art sales than the paintings and woodcut prints he was doing before.
After high school he went to Layton School of Art & Design in Milwaukee then moved to Minneapolis to be near his high school sweetheart, Rebecca, who was attending a Bible school there. The church allowed Michael to set up a pottery studio in a one-stall garage on the parking lot. The garage had no electricity so he had to stretch an extension cord across the lot for lighting. He married Rebecca and his clay work now had to provide income for the young couple. Rebecca recalls her mother asking what Michael was going to do to support them. When she responded "He's an artist.", her mother said "I know he's an artist, but what's he going to do?" Four children were born and shuttled around the country as their dad sold his work at art fairs. Liza Temple, Michael and Rebecca's youngest daughter, has fond memories of her time traveling with her family, mostly to Renaissance Festivals, and usually barefoot as she recalls. She attributes her love for a good road trip to this time in their lives.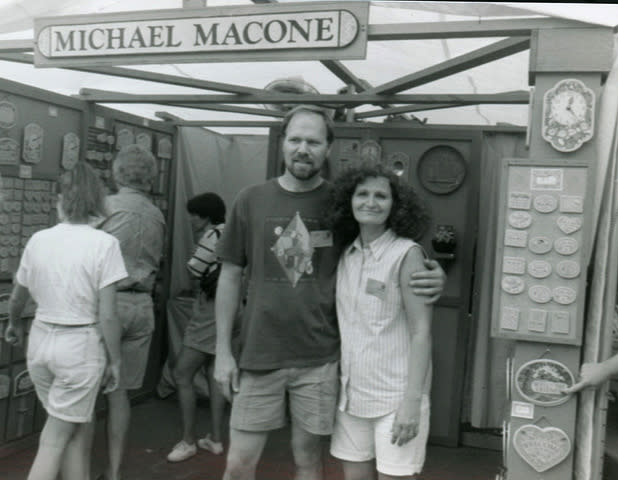 Above: Owners, Michael & Rebecca
From Minneapolis, they moved to Spooner to raise their young children in a small town as they had both been raised. Michael first set up his business in the old 7th Day Adventist Church and then in the laundromat building behind Mcdonalds. He eventually built a studio near Cyclone Lake outside of Spooner. It was around that time that Michael started thinking about streamlining his work so that it could be wholesaled to cut down on the travel to art fairs and festivals. The wholesale line was an instant success and the business outgrew the Cyclone Lake building. Michael rented a 10,000 square foot building on the southside of Spooner. After the move, the company, Trinity Pottery, experienced substantial growth and mushroomed from six employees to fifty in a relatively short time. The accelerated growth proved too much for Michael to handle and he took on a partner to help manage the business. After a fallout with his new partner, Michael and Rebecca left Trinity Pottery and began the long process of starting a fresh undertaking. Devastating as the departure was, they grew personally and learned valuable life lessons through the process. It didn't take long before their new endeavor "Spooner Creek" was running full steam ahead in a rented building on the southside of Spooner (now Wolverine Tire). Not at all surprising with their amazing attitudes and drive.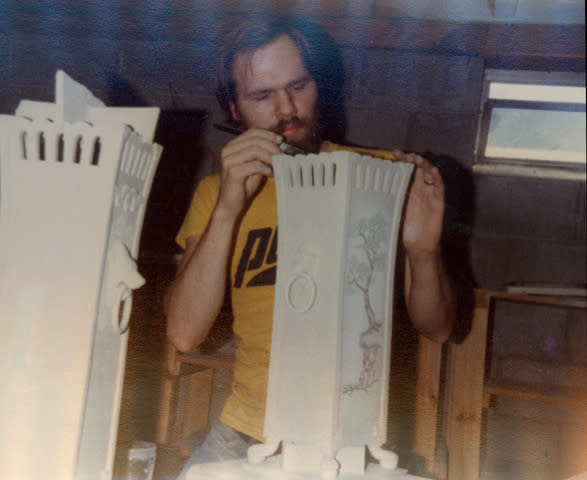 Above: Artist/Owner, Michael Macone
They soon outgrew that building, but Michael was tired of renting and wanted to own his own building. The Spooner industrial park was full, but a space was available in the new industrial park in Shell Lake so Michael and Rebecca decided to check it out. They fell in love with the property's potential and Michael immediately started dreaming about what it might become. A 10,000 square foot production facility was built and the company continued to grow there. Michael chiseled out a 20' by 20' room in the front to serve as a small pottery outlet. To get the attention of the traffic on highway 63 he installed a giant "POTTERY OUTLET" sign that stretched over the entire front of the building. People stopped expecting a large outlet and upon entering the small room would say "is this all there is?" That was hardly the thing Michael ever wanted to hear, so "one thing led to another" and Michael and Rebecca added onto the building to create a full fledge art gallery. The new addition was along the front and side of the building and offered a working pottery studio with a viewing area where you could "throw peanuts at the potters" as Michael would say.
The Gallery was dubbed "The Potter's Shed" and did well from the day it opened. Michael built kilns outside the gallery for the purpose of demonstrating "raku" firing. People flocked to watch but many wanted to be involved so Michael set up a space in the clay studio for visitors to glaze their own pottery and watch it pulled from the glowing red hot kilns. The firing took about an hour so people would run into town to get lunch or a snack. Michael wondered if there was something they could offer so that the people could stick around. He thought about starting an ice cream stand. Then the building next door became available and "one thing led to another" and The Shed Cafe was born after the company bought the building. Michael's entrepreneurial spirit was still restless so the company added a gift shop in the new space along with a larger area for people to do their own art.
A road between the original building and the new one was transformed into a charming old world garden with ponds and waterfalls. Right around that time, as they were working on the landscaping, Michael's "side-burned teacher" was nearing retirement and brought his art students to The Potter's Shed to help. "It was me, his first student and these guys, his last students, and we were all doing pottery, raku firing, and landscaping...it was a very cool time," said Michael, "This place wouldn't even be here if Bruce hadn't come to my high school and turned me onto clay."
Rebecca, being a singer / songwriter, wanted in on the fun and so Michael built a small stage in the corner of the garden where she and other local musicians could play. So, as the trend goes, "one thing led to another" and after the live music caught on the venue has expanded into a regional hotspot with capacity for over 400 people that now attracts major acts in the americana/jam-grass genre.
Family & Future:
So, what is it like working with family? According to Liza, "the good part is that you get to work with your family; the bad part is that you get to work with your family," said with a laugh and a whole lot of love. While it was never really Michael and Rebecca's intention for their kids to be involved in the business, their love for the area and the family business is evident in the fact that all four children are now part of The Potter's Shed in one way or another. Liza recalls fondly of working in the outlet & gallery during middle & high school. Now Miles, the oldest, is the Business Manager, Clayton, the one most gifted in clay is the Art Director, Liza is the Office Manager, and Krista creates art and design for the company remotely from Eau Claire. Even some of their spouses have become part of The Potter's Shed Team; Liza's husband, Dan, is now the Production Manager. The next generation is gearing up to play their part. The grandkids are already getting involved with Dayne running a snack shack for the music events and Charlotte delivering pizzas to the patrons as well as helping in the creative area. With 13 grandkids, Michael says with a laugh that he'll have to expand just to afford to employ all of them in the future. With everyone's diverse personalities, they've learned to utilize one another's strengths to make an incredible team. As we sat down with the Macone family, you could absolutely see the love and respect in that room. In their words, they have the perfect mix of chaos and love. So, why is The Potter's Shed such a success? In our eyes, it comes right down to the people who are the backbone of this amazing place.
When asked what's in store for the future, Michael mentioned that he has a couple things up his sleeve. If we know one thing for sure, The Potter's Shed will continue to expand and evolve. According to Clayton, there's never an end in sight for his dad's ideas and every step they take is always turning into "one more thing." Next time you're visiting, be sure to stop in to see what they're up to. If you're anything like us, you'll be absolutely captivated by this premier attraction nestled deep in the northwoods of Wisconsin.