It seems as though Northwest Wisconsin is full of hidden gems. Our next stop on our hidden gems tour offers so many hidden gems, but truly, it's the lake itself that's the biggest hidden gem. We're talking about none other than Long Lake. Some of you may have known about Long Lake for years, while others have yet to explore this 3,300 acre treasure. Well, it's time to mark Long Lake on your vacation list. To get you started, here are some of the hidden gems you'll find around the lake as well. 
Good Old Fashioned Resorts
Long Lake is home to a number of genuine resorts. As resorts get harder to come by, it seems like the demand for a real family resort vacation increases. Many of these resorts book up quickly during peak season, but you'll find that if you book during a shoulder season, it's much easier to get your favorite cabin and have a little more peace and quiet on the lake. There's nothing quite like waking up in the morning, grabbing a cup of coffee and heading out to the dock to enjoy a beautiful Long Lake sunrise. 
Waterfront Dining
Dinner with a view. That's what you'll find when you catch a bite to eat at one of the waterfront dining options on Long Lake. Whether you're vacationing on the lake or not, it's well worth your time to check out one of the waterfront restaurants on the lake. Here are a few to get you started. Located on the southeast side of the lake, be sure to check out Lincolnwood where you'll find loads of amazing food like their Lincolnwood Cheesy Steak Sandwich, Long Lake Supreme Pizza and so much more or head over to Sunset Resort for some broasted chicken or a burger. On the west side of the lake, be sure to head over to Grumpy's where you'll find a fun food with a sports bar and great views.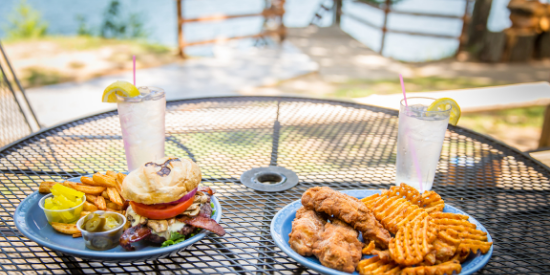 Spend Some Time on the Water
A trip to Long Lake just wouldn't be the same without some time spent on the water. A perfect way to explore the lake is by pontoon. Several rentals are available on the lake. If you haven't tried stand-up paddleboarding yet, be sure to head over to Long Lake Bait & Tackle to rent a board and take a paddle on the lake. And if you've never been fishing on Long Lake, this is the Walleye Capital of Wisconsin so grab a fishing rod and get out there. Not sure where to start, reach out to area fishing guide, Kyle Tyree - the Wisconsin Fisherman, who is always happy to get folks out on the water. If you're looking for marine supplies, be sure to check out Bees & Trees where you'll find a great selection of docks, boats, and lifts as well as tasty ice cream treats in The Hive.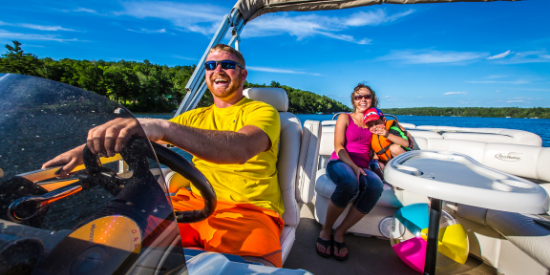 Band on the Barge
We're not sure how this party started, but we're sure glad it did! The annual Band on the Barge on Long Lake brings hundreds of people to the Big Island Sand Bar to soak up some sun and listen to an incredible band. Whether you have a pontoon, boat, kayak, or canoe, be sure to stop on over the first Saturday in August for this fun event.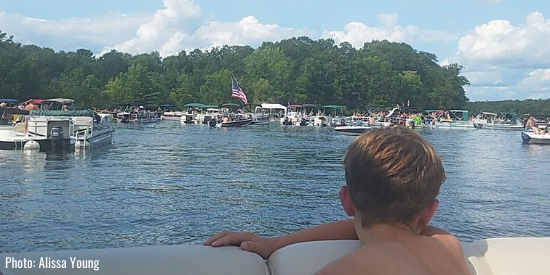 Perlick Distillery
Just a few miles from the lake, Perlick Distillery is the perfect place to grab a drink. Serving up vodka grown from grains straight from this five-generation farm, you won't want to miss their delicious cocktail menu. And, if you hit it at the right time during the late summer, you'll also find a one of a kind Sunflower Maze grown in the fields around the distillery. 
Explore the Outdoors
If you're looking to get outdoors, but don't want to make a splash in the lake, there are a couple of hidden gems that you won't want to miss. For a genuine northwoods experience, immerse yourself in the 600 acres of forests, meadows and even bogs at Hunt Hill Audubon Sanctuary. For the kids, check out the Discovery Trail and the Nature Playscape. For the adults, get a little fresh air over at Butternut Hills Golf Course where you'll find fabulous rolling fairways nestled in the beauty of Northwest Wisconsin.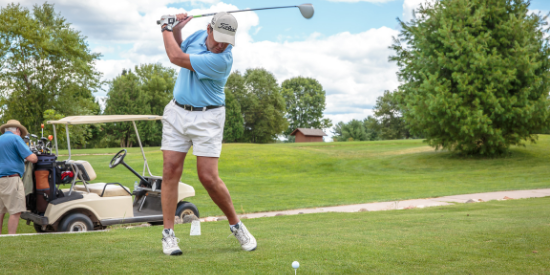 Whether you're ready to hit the water or just grab dinner with a view, Long Lake is a hidden gem all its own. There truly are so many "hidden gems" around Long Lake that we couldn't come close to covering them all here. Check out the Long Lake page where you can learn about more of the amazing places to visit.