Washburn County's largest community, Spooner, boasts a population of just over 2,500. This charming small town is the next feature in our hidden gems series. From top-notch dining to one of the best downtowns in Northwest Wisconsin, a trip to Spooner will not disappoint! 
Spend Some Time Downtown
A walk down Walnut Street in Spooner will lead you on the best of treasure hunts. Whether you are looking for the Fairy Shoppes of Spooner or are following the Tin Ceiling Tour to browse the intricate tin ceilings that decorate many of the shops, you're sure to be charmed by this quaint community. A stop into RC Gifts is truly a must to find the perfect gift for...well, anyone! Everywhere you turn you'll be in awe of the variety and options that they carry! If you're looking for vintage items and collectibles, check out The Copper Horse. Looking for local art? Head over to Gypsy and the Frog, The Purple Pelican or Arts in Hand Gallery. We simply can't cover all of the hidden gems in the downtown area, so you'll have to check it out for yourself!
Brews & Nightlife
If you're looking for a cold beer or even a custom specialty drink, look no further than Spooner! Spooner is home to Round Man Brewing Co. where you'll find 13 original brews including the Omaha X which is named after the rich railroad history of Spooner. Spooner was once a major hub of the Chicago, St. Paul, Minneapolis and Omaha Railroad. The four original rail lines made up the "X" and put this quaint community on the map. Looking for history and a cold beer? Look no further than the Wobblin' Duck, one of the stops on the Tin Ceiling Tour. This local favorite received several mentions from our followers as a must stop.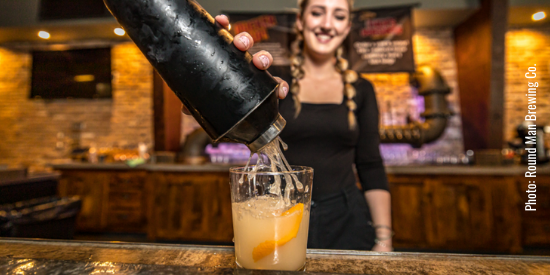 Don't Miss the Outskirts
Be sure to explore more than downtown Spooner while you're here. A local (and visitor!) favorite is the Spooner Farmers' Market, held every Saturday during the summer and fall on the south end of Spooner. The market brings in a variety of vendors offering local produce, maple syrup, locally raised meat, artisan booths, and more. Another hidden gem is North Crossing Foods. Their slogan is "where organic, bulk, gluten-free and regional favorite foods meet" and this couldn't be more true. From local cheese to fresh produce grown right on site, you're sure to find a delightful shopping experience. On the north side of Spooner, you won't want to miss Poor Richard's Antiques. You'll know it by the big red barn and incredible collection of antiques out front. And if you want a good cup of coffee while you're wandering around at Poor Richard's, Redemption Coffeehouse & Roastery offers tasty coffee drinks, ice cream and more!
The Necessities
If you're in need of lawn and garden supplies, head over to Northwood's Hardware Hank where not only will you find your basic hardware needs, but also a great selection of bird feeders and garden supplies as well. In town late and need a few things - don't worry, Schmitz's Economart is open 24 hours a day and offers all the necessities including fishing supplies!
What to Explore
If you're looking for some single track adventure, head out to Wildcat Mountain Bike Trail where you'll find 21 miles of scenic trails. History? You won't want to miss the Wisconsin Canoe Heritage Museum and Railroad Memories Museum where even the buildings' history is captivating. Take a walk to the east of the museums and you'll find Spooner Railroad Park (still under development) and the historic roundhouse and turntable. This property was once a bustling railyard. There are a few signs around the park showcasing the history and more coming in the near future. One more must see is the Spooner Veterans' Park where you'll find an incredible memorial as well as a replica of the Tomb of the Unknown Soldier. Once you've visited those, be sure to take a walk out on the pier to see the Yellow River or better yet, head down the nature trail to explore outside the Spooner Fish Hatchery. 
Whether you're headed into Spooner for the essentials or are spending a week exploring all of the great hidden gems around the area, you're sure to fall in love with Spooner's unique charm. For more ideas on where to visit, check out the area attractions.