Sometimes the things that we make are tangible. You can hold them in your hands and feel their texture. Sometimes the things that we make go a little deeper. They make a little more impact. Animal nutrition is one of those things. We recently had a chance to sit down with the owner of Crystal Creek, Dr. Ryan Leiterman, and what we walked away with after this interview is nothing short of inspirational. The passion for healthy animals and successful farmers that Dr. Leiterman and his team have is just one of the many things that makes Crystal Creek so special.
The Crystal Creek Team
As we walked in the door, we were greeted by one of the greatest signs we've ever seen in a business entryway. The sign reads, "We are not a team because we work together...We are a team because we respect, trust & care for each other." - Vala Afsher. As we took our tour, we truly saw this quote in working action. When we asked Dr. Leiterman what his favorite part of his job is, he responded that one of the things that bring him the most satisfaction is working with his team. He enjoys watching young "fresh out of college" team members grow into capable, knowledgeable professionals.
The team consists of 15 team members. From the friendly office manager, Mary, to the knowledgeable animal nutritionists who work with farmers day in and day out, each team member has an important role to play in making sure that every animal is well cared for and every single farmer is successful. According to Dr. Leiterman, that is why they are so passionate about who they hire. The right person can have a positive impact on a business and be a key reason for a farmer's success.
Being a family owned company, we had to ask Dr. Leiterman what it's like working with his family. "It's one of the best parts of my job," Dr. Leiterman says, "My parents started the company 24 years ago and I came back to the company 12 years ago." It was then that they began planning for the company's eventual succession. Succession planning of a family business is absolutely critical and looking back Dr. Leiterman can see the fruition of all the planning. His parents are now semi-retired. Although in talking about his dad, he goes on to say, "I don't know if he could ever fully retire. He brings a level of enthusiasm and knowledge." If you've ever considered working with family, according to Dr. Leiterman it's worth it, "It's not without challenges working in a family business, but it is super satisfying. I feel really fortunate getting to work with them over the past twelve years."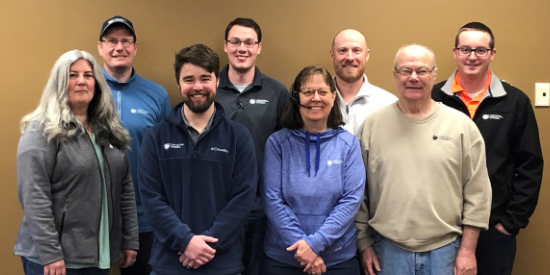 Crystal Creek: The Early Years
Most dreams have one thing in common, they start small. It's a funny thing about dreams though. Dreams turn into a passion and with enough motivation and a good amount of determination, they grow into something  special. That's definitely the case for Crystal Creek. This thriving business began as a dream of the Leiterman family in a garage in Prescott, Wisconsin. Dan's passion for helping farmers quickly outgrew the space and they began looking for something larger, eventually landing on a 3,200 sq ft space in Trego, Wisconsin. Once they outgrew that space, they started working with the City of Spooner to develop the property that is now the home of Crystal Creek. This 32,000 square foot building is a tribute to the incredible growth of this family owned company. As we were taking a tour of the warehouse, the ingenuity behind everything they did was apparent. Right down to the way they recycle the air from the warehouse to cool the office space and vice versa.
Why Washburn County?
So, what brought the Leiterman family and Crystal Creek to Washburn County? The answer is recreation. For decades, the Leitermans vacationed in Northwest Wisconsin. Dr. Leiterman shared fond memories of camping trips from his childhood. He recalled loading up the family vehicle on Friday after school and driving north for a couple of hours to set up camp in beautiful Northwest Wisconsin where they would fish and enjoy the great outdoors. The family soon realized that they could ship their product from anywhere, so why not move to the place they loved the most? Those dreams became a reality in 2001, when they moved their operation to Trego.
When it comes to employee recruitment, the location is even a recruitment tool. "It's not hard to get people to move here," said Dr. Leiterman. He went on to say that the majority of their employees grew up in rural areas and love the outdoors. Washburn County's rural setting and incredible recreational opportunities make it an easy transition for the majority of Crystal Creek's recruits.
What Sets Crystal Creek Apart
Animal nutrition is probably not one of the things that most people think too much about. Where does your meat come from? How were those animals raised? That gallon of milk that you just purchased, have you ever thought about what that dairy cow eats each day? Milk production is important and healthy cows produce more milk. If you're a team member at Crystal Creek, this is something that you think about each and every day. The passion for healthy animals and happy farmers runs deep at Crystal Creek. Every team member plays an integral role in helping farmers run successful businesses.
Dr. Leiterman's second favorite part of his job; "Working with our farmers." says Dr. Leiterman. "As far as I'm concerned Agriculture is the backbone of America. Our job is to help them make their businesses more profitable and sustainable. If we improve the feed for the animals, they're more productive, they're healthier, and the farmer makes more money. On numerous occasions we've had farmers say if it hadn't been for our help that they may not be in business anymore. From a professional satisfaction standpoint, I don't know how it gets any better than that. Our clients are wonderful people to work with."
So how does Crystal Creek approach animal nutrition differently? "Two things." says Dr. Leiterman, "Our mentality and philosophy is that we look at animal agriculture and animal nutrition. Taking the dairy industry for example, there's a very strong opinion that the point of a dairy farmer is to produce milk. We don't look at it like that at all. Naturally, dairy cows do produce milk." He goes on to say, as business owners, the point of the farms is to stay in business and stay strong. Getting the most milk out of the cows, you would initially think would create the most profit. However, Dr. Leiterman says that it's a balance. At Crystal Creek, what sets them apart is their comprehensive approach which considers how much milk is being produced in relation to the feed costs for that production. Essentially, looking at the income generated from the milk production and figuring out how much profit is left after the expenses. "Our baseline philosophy," says Dr. Leiterman, "is that the job of the dairy farmer is to run a profitable business so that the business can stay in the family and be handed down from generation to generation." He goes on to say that sometimes it's about increasing production, but it's really about finding the balance for each individual farm.
When touring our area businesses, our team learns so much about not only the products they sell, but also the culture within their organization. What amazed us when talking with Dr. Leiterman and his team is their absolute devotion to healthy animals. Whether it's a backyard flock of chickens or a full-fledged dairy operation, they truly care about every animal's well being. We were absolutely in awe of all the educational resources their team has developed, the time they've spent on radio shows, and the one on one guidance they offer. This is a company that isn't just trying to sell a product, this is a company that truly cares about their clients.
Looking to learn about cold weather care for your horses? They have an article for that. How about an article on maintaining your pasture? They also have that. Check out all of the great resource articles on their website, https://crystalcreeknatural.com/category/articles/
Before visiting Crystal Creek, our team had no idea how important calf barn ventilation is to the health of the calves. On our tour, Dr. Leiterman showed us the calf barn ventilation system that he invented. We were absolutely amazed by not only his creation, but also his passion for helping farmers make sure the air quality in their barns is optimal for the animals. If you want to see something cool, watch the video about this ventilation system.
https://crystalcreeknatural.com/swift-start-program-calf-barn-ventilation-design/
Crystal Creek: Looking Forward
When asked about the future of Crystal Creek, Dr. Leiterman shares that the future looks really good. Crystal Creek's business is very diverse and offers nutritional products for dairy cows, calves, poultry and more. "Each market has its own ups and downs so when one market is down, another may be up," says Dr. Leiterman. When asked about the backyard chicken farmers, he goes on to say that anything that can connect people to understanding where their food comes from is a win.
Every business that calls Washburn County home plays an important role in our economy. Crystal Creek is a shining example of a family-owned, successful business that truly cares about the community that they call home. Whether you're looking for poultry feed, a new calf barn ventilation system, or a great place to work, you're on the right track when you call the folks at Crystal Creek.
With contributions from Crystal Creek
Photos Provided by Crystal Creek