You don't need to plan an extravagant vacation to visit Belgium if you are looking for gourmet, melt-in-your-mouth, luxury chocolates. All you need to do is take a wander into a few of our local stores before you notice a trend. What are these beautiful boxes of chocolates and why do so many local shops carry them? Flip over the box and you'll see that they are indeed made locally. 
Our team at Washburn County Tourism recently sat down with gourmet chocolatier and chef, Daniel Herskovic to find out what brought this self-described "city boy" to our beautiful community of Spooner, Wisconsin, and along with him his talented wife, Tamara, and their award winning luxury chocolate company. 
Love at First Sight:
Daniel's story, and the story of Mayana Chocolates, began years ago while he was running his catering business in Chicago. One evening in 2006 while catering an event, Daniel met an extraordinary woman who was serving at the event and according to him, "it was electric." When asked if it was love at first sight, he responded with "you could say that." It wasn't long before Tamara and Daniel teamed up, her with an extremely successful event planning company and Daniel with his well-established catering business. His training at the California Culinary Academy and experience at top restaurants in San Francisco, New York and Chicago had trained him well for the culinary delights his high-end clients requested. The desire to leave their guests with something to remember them by, led them to create gourmet chocolates as a memento. According to Daniel, these delicious chocolates turned out to be roughly the size of golf balls.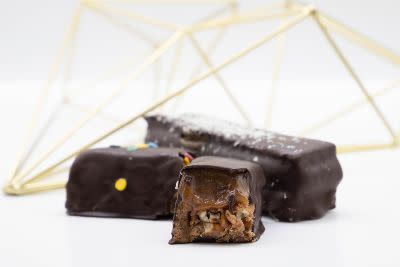 About the Chocolate:
After Daniel fell in love with not only Tamara, but chocolate making in general, he went off to study under some of the best chocolatiers in the world in France and the United States. His training certainly paid off. With his clever ingredient combinations, he and Tamara entered the Luxury Chocolate Salon, held in Chicago. Not only did they win the "Best of" award, but Daniel also earned the title of "Most Gifted Chocolatier" and if you've tasted their chocolates, you'll know why! And the awards haven't stopped. In 2016 Mayana was named in the "Top Ten Chocolatiers in America" by Dessert Professional Magazine. In 2017 and 2018 they were the recipients of the "Good Foods Award" in the confectionary category for the Space Bar, Coconut Dream Bar and the Mayan Spice Bar.
Mayana's concept is simple. Take the best chocolate and combine it with unique combinations of foods that everyone loves. You aren't going to see eggplant or sweet potato and miso in their chocolates. Utilizing only the finest ingredients and locally sourced whenever possible, their chocolates are an experience in every bite. From their Kitchen Sink bar which is the perfect blend of sweet and salty with Peanut Butter, Pretzel, Crispy Rice, Fleur De Sel Caramel and 66% Dark Chocolate to their Mayan Spice Bar (Dark Chocolate Ganache, Sea Salt Caramel and Tortilla Crunch) which is described simply as "Spicy. Rich. Decadent.", your mouth will be watering by the time you are done reading the descriptions, let alone sitting with a chocolate bar in hand ready for the heavenly experience that you know awaits that first delicious bite. 
As I was reading about the incredible chocolates that Mayana offers that I haven't tried yet, I found a new one that is now on my "must try" list...it's called 'Coffee Break' and if you knew how much I adore coffee, you'd know why that one is at the top of my list. A close second is definitely the 'Heavens to Bacon' bar. Bacon and chocolate. Two of my favorite food groups. Perfection.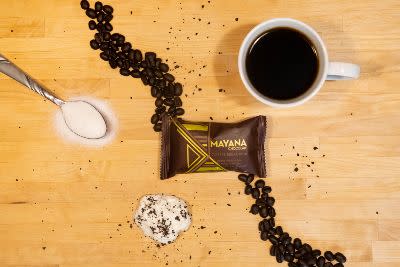 Why Spooner:
The time came when The Herskovics decided the big city living was going to be put behind them for a new venture in good ole' Spooner, Wisconsin. Although many colleagues & friends had told them they would miss their Chicago clientele when they were up in the middle of nowhere, Daniel & Tamara still continued in their leap of faith. But, why would they move to what so many folks from the larger cities refer to as 'the middle of nowhere?' 
Daniel and Tamara had been vacationing in the area for years to visit Tamara's parents who live on Lipsett Lake. Over the years, they had grown to love the quiet nature of their little vacation town. Their experiences (and memories!) on the cross country ski trails and bike trails over the area's rolling hills, along with the sparkling lakes crept into their hearts little by little and soon moving to this charming community seemed like a no brainer. 
Finding Welcome in Unexpected Places
While you would think that a larger city would have more support in place for new businesses. Daniel and Tamara soon found the spirit of entrepreneurship that is the backbone of Northwest Wisconsin. They teamed up with Northwest Regional Planning Commission (NWRPC) to make their dream a reality. Through NWRPC they found a support system to help them get their business up and running and it seems as though the rest is history. 
It didn't take long for them to see growth in areas that they never expected. Their once Chicago-based company was now shipping chocolates all over the United States and being carried in shops in nearly every state. Something tells us that part of their success in building their business together is the deep rooted respect and love for one another...and possibly their intense love of chocolate as well. While Daniel recounts some challenges early on with not knowing many people, it didn't take long to make connections and find an amazing team to help create their chocolate masterpieces. 
What Does the Future Hold?
When we asked Daniel what was next for Mayana Chocolate, he was proud to share about their new "Pride" line which demonstrates their passion for equality. Daniel also shared that there is a new bar available which incorporates high end scotch whiskey. After recently moving into a larger production facility, their team is settling into their new space and Tamara, well, she's expanded to pursue yet another dream! She opened 'The Chocolate Studio' located in downtown Spooner where she puts to use another of her passions being a yoga instructor. Not only does she offer yoga and other classes, she also offers a retail space where you can find clothing, jewelry, candles, crystals, wine and of course, gourmet chocolates from a peaceful little town in 'the middle of nowhere.'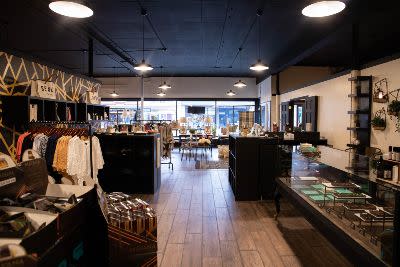 With contributions from Daniel & Tamara Herskovic
Photos Provided by Mayana Chocolate